With the increasing integration of automobiles and smartphones, there is a growing need for wireless charging technology that allows for easy charging in the car. Renesas offers an automotive in-cabin wireless power solution that is Qi 1.3 compliant and supports functional safety. This solution uses the P9261-3C wireless power transmitter that can supply power to three coils, resulting in a system with a large chargeable area and high transmission efficiency.
System Benefits​:
Complies to WPC*1 Qi 1.3 EPP*2 (at 15W) specification and is capable of providing 30W fast charging (PPDE*3)
Supports WPC Qi 1.3 Rx-to-Tx authentication with safe power transfer*3
Supports functional safety up to ASIL B with RH850 and Renesas buck regulator
Wide charging area and highly efficient (up to 75%) wireless power transfer
Compliant with CISPR25 Class 4 standard for superior EMI performance
*1 WPC (Wireless Power Consortium): A standardization organization established for the purpose of developing and promoting the international standard Qi.
*2 EPP (Extended Power Profile): Qi standard which supports up to 15W.
*3 PPDE (Proprietary Power Delivery Extension): Qi standard which supports over 15W.
Image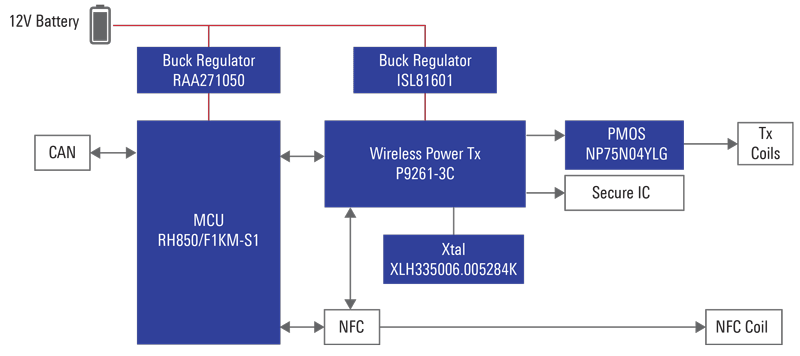 Related Products