Eco-Product Initiatives
Our eco-product initiatives take the form of creating environmentally-conscious products and solutions
Creating Environmentally-Conscious Products
In order to create environmentally-conscious products, it is important to reduce the environmental impact at all stages of the product lifecycle, from procurement, manufacturing, use and disposal. Our eco-products are the result of product environmental assessments* which evaluate the total environmental impact reduction measures. During these product environment assessments, our products are tested and evaluated at two stages: at the development stage and before mass production.
*: This product environmental assessment applies to former Renesas products.
Eco-Product initiatives at each stage
Image


Environmental Assessments of Products
We create environmentally-conscious products by incorporating product environmental assessments into the product development and design flow, to evaluate the degree of improvement in environmental load. In this assessment, we make comparisons between our target products with indexed previous generations of the products (Note 1) based on eight criteria, including weight reduction, product safety, and whether they are energy saving. The outcome of the assessment is determined by the design department developing the product that is being assessed as well as the Environmental Promotion Department at Renesas as a third-party assessor. If the outcome determines that any of the three categories below applies, the sale of the product is prohibited in principle. 
If a prohibited material is used in the product or in the manufacturing process
If a new material used in the product or in the manufacturing process is not SDS (Note 2) registered 
If the preliminary examination of any new materials used in the manufacturing process has not been conducted
In addition, if the environmental performance of a product has not improved in comparison to the indexed product, the design department must consider making improvements to the product or decide whether the development should continue. 
The steady promotion of the environmental assessment increases the safety and trust of Renesas' semiconductor products, as well as to further improve the environmental performance of the products themselves. This will ultimately lead to reducing the environmental impact for the final customers using our finished products.
Image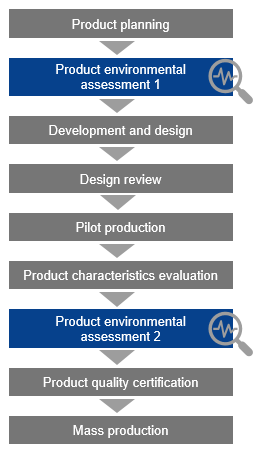 Note 1: Previous generation refers to indexed products that are one generation prior but have almost the same purpose, function and performance as the new product. However, if there are no previous generations of a product, the new product itself is considered as the index product. 
Note 2: Safety Data Sheet (SDS) refers to the information document provided by supplies on the properties of chemical substances and the handling of materials that contain hazardous substances that may be dangerous or harmful.
Image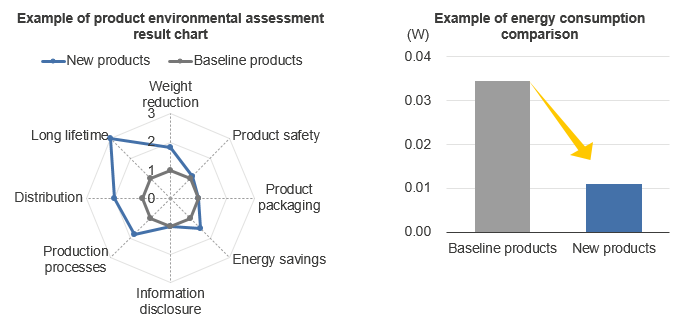 Renesas Green Devices
In order to promote research and development (R&D) and design of products which corresponds to the creation of environmentally-conscious products based on the Environmental Action Guidelines (creating environmentally-friendly semiconductor products in all stages of the product life cycle), products that greatly contribute to the reduction of environmental impact are certified as "Renesas Green Devices." 
Green Devices certifications are conducted on products that have completed the development stage but have not yet been mass produced. The certification process is basically as follows: Firstly, based on the results of the product environmental assessments, we confirm whether the environmental performance of the target product is more superior to the indexed product in the three categories of resources (mass), energy (energy consumption) and chemical substances (quantity of substances used by Renesas that are subject to reduced usage). Secondly, if the target product is determined to be superior to the indexed product and the improvement rate is over 10%, the product is certified as "Renesas Green Devices." Products with over 40% improvement in environmental performance is certified as "Renesas Super Green Devices."  

Products certified as "Renesas Green Devices" and "Renesas Super Green Devices" for having superior environmental performance among the many hundreds of products developed annually at Renesas are registered in a database. Some of the products that can be publicly disclosed are uploaded onto the Renesas website. 
Going forward, Renesas will continue to promote the creation of environmentally-conscious products by considering plans to introduce award systems for recognizing green device certified products.
Introduction of Renesas Green Devices and Super Green Devices (Products developed in 2019 and 1H of 2021) 
Excerpt from products that can be publicly disclosed
Product name
Type
Application
Feature
RH850/F1KH
32-bit MCU
Controller for automobile electrical components
Equipped with two G3KH cores, low power consumption, high processing capacity
R9A06G064MGBG
Communication SoC
Network controller
Equipped with gigabit-compatible Ethernet PHY
R9A06G064SGBG
Communication SoC
Network controller
Latest TSN communication is enabled by single chip
R5F10NMLDFB
R5F10NPLDFB
Ultra-low energy consumption
16 Bit MCU RL78/I1C Group
High-end smart power meter
Equipped with functions required for high-precision power measurement of smart power meters. The code flash area can be divided into two parts for the 512KB flash memory.
Flash memory in dual-bank configuration and bank swap function allows firmware to be downloaded and changed during weighing operation
R7F701401EAFB
R7F701402EAFB
R7F701403EAFB
R7F701421EAFB
R7F701422EAFB
R7F701423EAFB
High-end microcontroller
RH850/D1L for automotive

Instrument clusters that can draw small 2D

Built-in flash memory up to 4MB, stepping motor controller/driver, sound generator, LCD bus interface and video RAM, reducing external components to reduce weight and energy consumption and reduce environmental impact
Learn more RH850/D1L Group
RMTF31872BAGBM
RMTF30972BRGBM
Low power high density /
Ultra high speed memory (DRAM)
Network devices (Router/Switch)
Optimized high-speed random access for low latency
RAA305380GBM
RAA305370GBX
RAA305390GBX
High-performance,
low-power MPU & Driver
Smartphones
Image stabilization function with built-in smartphone, Gyro sensor I/F and actuator driver
R9A02G011GBG
USB Power Delivery Controller
Industry/Consumer

A Universal Serial Bus (USB) Power Delivery Controller based on the USB Power Delivery Specification Revision 3.1 and USB Type-C™ Cable and Connecter Specification Revision 2.1

Built-in CC-PHY and CC-logic, flash ROM, oscillator, power-on reset circuit, etc. that allow significant reduction of the number of external components and various applications where board space is limited

Learn more about USB PD Controller
R5F5671***BP
R5F5671***LJ
R5F5671***LK
32 bit high-performance and high-efficiency MCU RX671 Group
Industry/Consumer

Uses the ultra-small package with industry-leading power efficiency and large-capacity memory, contributing to reduce the environmental impact through its high functionality, low power, and miniaturization capabilities.

Learn more about RX671 Group
Product Environmental Quality
We believe that it is necessary for the entire supply chain to manage chemical substances contained in products throughout the entire process, from the selection of materials during development and design, to the prevention of pollution in the manufacturing process. For this reason, we ask suppliers to submit certificates and analysis data to confirm that prohibited substances are not used, and they adhere to such practices in supplier audits.
Distributors are requested to manage the chemical substances contained in the packaging materials they use. On the other hand, we also provide our customers with information on chemical substances contained in products and analysis data on prohibited substances according to the RoHS Directive to ensure that our products can be used safely. In addition, we show our customers our systems for managing chemical substances and actual environmental activities.
For more information on our group's environmentally-conscious supply chain initiatives, please refer to this link.
Image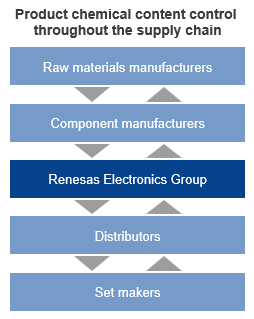 Energy-Saving Devices
We deliver energy-saving products and solutions that support our customers' electronic equipment and systems. Some of the products and solutions we deliver consume very little power themselves, and some help further reduce energy consumption in our customers' systems when used. By actively developing such devices, our devices contribute to energy efficiency in society.
For details of our products and solutions that contribute to ultra-low power consumption and energy efficiency in our customers' systems, please refer to this link.
Contributing to SDGs
Renesas' efforts in Eco-Product Initiatives contributes to these Sustainable Development Goals targets:
Image

12.4 By 2020, achieve the environmentally-sound management of chemicals and all wastes throughout their life cycle, in accordance with agreed international frameworks, and significantly reduce their release to air, water and soil in order to minimize their adverse impacts on human health and the environment
---