Climate Change Initiatives –
Our Commitment to Carbon Neutrality
Renesas Aims to Become Carbon Neutral by 2050 to Minimize the Impact of Climate Change
As an interim target, we have set a goal for 2030 to reduce greenhouse gas emissions by 38% compared to 2021 levels. This is in line with the 1.5 °C target (an effort to limit the increase in global average temperature to 1.5 °C compared to pre-industrial revolution levels) instead of the previous 2.0°C target. We plan to achieve our goal by reducing the emission of PFC gas – a greenhouse gas that heavily impacts the environment – and meeting the domestic electrical and electronics industry targets in Japan and the energy intensity reduction target in accordance with the Energy Conservation Law. These initiatives also include expanding the use of reusable energy at our manufacturing sites which consume significant amounts of energy.
图像


Response to the TCFD Proposal
Renesas has signed up to support the Task Force on Climate-related Financial Disclosure (TCFD) and joined the Japan-based TCFD Consortium (announced on April 15, 2021). By supporting such initiatives, we will commit to transparent information disclosure that focuses on analyzing the risks and opportunities brought by climate change. Following the proposal by TCFD, we will proactively disclose information to stakeholders from the four perspectives of "Governance", "Strategy", "Risk Management" and "Indicators and Targets", as well as to establish a business strategy that further considers climate change and make business decisions that will reduce risks and maximizes opportunities brought by climate change.
Governance
At Renesas, we recognize the various opportunities and risks brought by climate change to be one of the important perspectives in business strategies. Thus, the CEO is responsible for all company-wide activities related to sustainability, including risks and opportunities brought by climate change. Policies, important factors, risks and opportunities related to climate change are regularly discussed and reviewed by the CEO, an Executive Officer appointed by the CEO and the Sustainability Promotion Office, and are reported to the Board of Directors. In addition, under the CEO's supervision, a corporate officer in charge of the environment manages, considers, plans and establishes a system on a global basis, the Environmental Promotion Department which promotes Renesas' group-wide environmental activities. 
Click here for the Sustainability Promotion Structure
Click here for the Environmental Management System
Strategy / Main Climate Related Risks and Opportunities
We have begun identifying risks and opportunities as impacts of climate change not only in the short term but has a relatively higher probability of becoming actualized in the medium- to long-term (beyond 2030). We will continue to monitor changes in the external environment and regularly update the analysis and evaluation of risks and opportunities, with an aim to report on different climate scenarios in the medium-term.
Risks and Opportunities
Relationship with Renesas Group's Business
Risk
Transitional
Policies and Restrictions

Cost increase risks brought by introduction of carbon pricing (carbon tax, etc.) 
Risks such as investments owing to changes in manufacturing, procurement of materials, and impacts to price setting from changes in various laws and regulations on specific chemical substances necessary for semiconductor manufacturing and other materials related to manufacturing 

Material
Emergency and Chronic

Risk of droughts and flooding owning to climate change (impacts to production in manufacturing sites) 
Risk of increased air conditioning load (energy cost), a manufacturing equipment specific to semiconductors, owing to temperature rise from abnormal weather 

Opportunity
Products and Solutions

Increase of vehicle manufacturing units followed by new business opportunities from the widespread adoption of environmentally friendly vehicles, such as Electric Vehicles (EVs) 
Demand increase for Renesas' specialty products and solutions that balance high operation performance and environmentally-conscious high power-efficiency required for the expansion of high-speed and high-capacity communications (5G)

Click here for the Innovation page 
Risk Management
We have established a Group-wide risk management system based on the "Renesas Electronics Group Risk and Crisis Management Regulations". We regularly maintain our risk management system for possible risks that may occur, and for each one a department will be put in charge of crisis management according to the type of risk, and that department will conduct the day-to-day risk management. We also attempt to identify and group risks in advance that are then represented realistically in our Risk Map, while at the same time formulating contingency measures to prevent those risks, as well as systems and response policies in the event of such risks happening. Furthermore, in the event of a company-wide emergency, we establish an Emergency Response Headquarters (ERHQ) led by our CEO, which brings information together, proposes countermeasures, and takes measures to minimize losses. 
Click here for the Risk Management page
Indicators and Targets
Based on the environmental policy "we will contribute to the harmonization of society and the environment in the course of our business activities", we have established a medium- to long-term target for 2050 to reduce greenhouse gas emissions: "Reduce greenhouse gas emissions by 38% from 2021 levels by 2030" and "be Carbon Neutral by 2050". 
In order to achieve our target, we will continuously promote various activities such as: Reaching reduction targets of energy consumption per revenue on manufacturing sites that consume the most energy based on the  electrical and electronic industry target of Japan and the Energy Conservation Act; Reducing PFC gas emissions, a gas that has a particularly large burden on the environment within greenhouse gases; Expanding the use of reusable energy. 
 
Environmental Impact of the Entire Value Chain
In order to understand the environmental impact of our business activities including the value chain, we have calculated the amount of greenhouse gas (GHG) emission from scope 1 through 3 based on the GHG protocol.
图像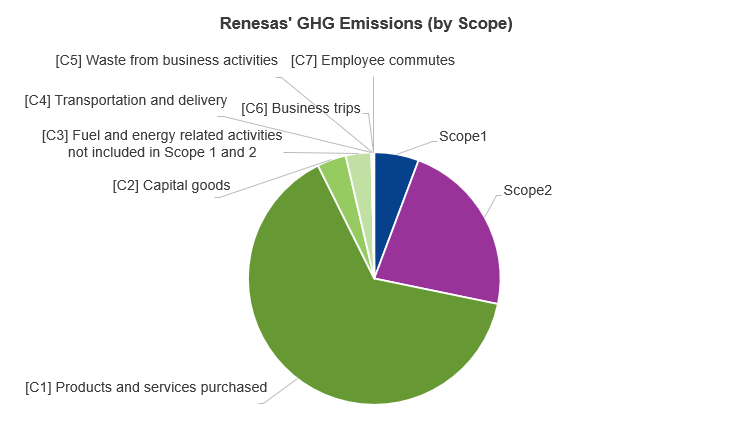 FY2021
Classification
Range and Calculation Method
Emission amount (t-CO2)
Ratio
Scope1
Direct emission of greenhouse gases
Greenhouse gases emitted by Renesas
198,116
5.71%
Emission of PFC gases
156,398
-
Scope2
Indirect emission from the use of electricity, heat and steam
Indirect emission following the use of electricity and gases provided by other companies
781,723
22.52%
Scope3
[C1] Purchased goods and services
Emission following procurement of materials and production outsourcing
2,234,587
64.38%
[C2] Capital goods
Emission following the increase of production equipment
128,920
3.71%
[C3] Fuel- and energy-related activities not included in Scope1 and 2
Emissions from upstream processes of procured electricity and fuel
114,649
3.30%
[C4] Upstream transportation and delivery 
Emissions from production logistics within Japan
489
0.01%
[C5] Waste generated by operation
Emissions from transportation and disposal of waste conducted by another party
7,042
0.20%
[C6] Business travel
Emissions from employee business trips
1,727
0.05%
[C7] Employee commuting
Emissions from employee commutes in Japan
3,677
0.11%
[C8] Upstream leased assets
Not applicable (included in Category 1)
0
0.0%
[C9] Downstream transportation and delivery 
Not applicable
-
-
[C10] Processing of sold products 
Not applicable
-
-
[C11] Use of products sold
Not applicable
-
-
[C12] Disposal of sold products 
Not applicable
-
-

[C13] Downstream leased assets

Not applicable
0
0.0%
[C14] Franchises
Not applicable
0
0.0%
[C15] Investments
Not applicable
0
0.0%
Total
3,470,929
100.0%
In order to calculate CO2 emission level calculation in relation to electricity, we have used the factor provided by the "List of Calculation Methods/ Emission Factors in the Calculation, Report and Publication System" of the Ministry of the Environment and the Ministry of Economy, Trade and Industry of Japan, adjusted conversion factors for individual power businesses based on the Act on Promotion of Global Warming Countermeasures. For figures that represent outside of Japan, the latest values for the each fiscal year supplied by power supply companies. When the CO2 emission levels are uncertain, we use the conversion factors of previous year. For the CO2 emission factor for gas and fuel at the time of calculation, we used the factor provided by the "List of Calculation Methods/ Emission Factors in the Calculation, Report and Publication System" of the Ministry of the Environment and the Ministry of Economy, Trade and Industry of Japan.
Eco-Factory Initiatives
We are running several eco-factory initiatives, mainly in the form of reducing our manufacturing sites' environmental impact, especially those which consume the most energy.
Energy Reduction Results in 2021
In 2021, we reduced energy consumption by 1.6% compared to the previous year of 2020. Energy intensity against revenue decreased by 29% in comparison to the previous year of 2020 due to our significant increase in sales (denominator) driven by strong demand for semiconductors. We were able to reduce the total energy consumption during robust production base operation thanks to the energy-saving measures implemented at each factory and the result of diligent energy management.

In 2022, we will continue to promote energy-saving measures and strive for efficient use of energy corresponding to the Group's business activities in order to reduce energy consumption and prevent global warming.

In addition, as part of our energy reduction activities, we have participated in the "Low Carbon Society Action Plan", an initiative undertaken by the Japanese electrical and electronics industry since 2013. The Low Carbon Society Action Plan aims for the development of innovative technology which will contribute to the prevention of global warming, promoting international contributions though the transfer of technology, strengthening the cooperation among supply chains as well as reducing energy intensity against revenue by 1% every year. 
 
图像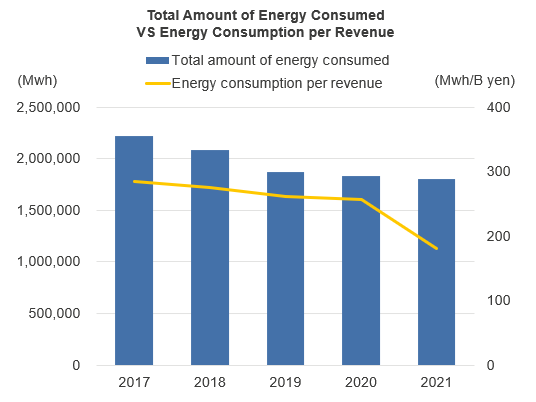 图像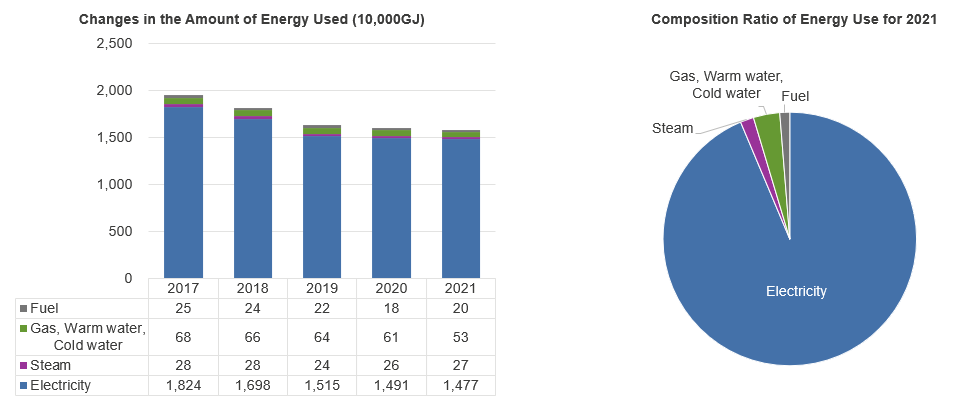 Main Measures to Reduce Energy Consumption
In line with the Energy Saving Act, we are working to reduce energy consumption by at least 1% per year over a five-year period. Specifically, we are systematically implementing measures such as improving the efficiency of equipment, inverter control, and measures related to natural and vaporization energy. In addition, we are optimizing factory operations in line with production volume changes. 
No.
Items
Details
1
Enhancement of Equipment Efficiency
Refrigerator replacement, optimal control
Compressor replacement, machine number control
Boiler replacement
Dry pump replacement
2
Motor Inverter Control (Rotation Control)
Air-conditioner fan, various pumps
3
Natural Energy


Reuse of Energy




Vaporization Energy, etc.

Winter-free cooling
Waste heat recovery and reuse
Water spray humidification
Reduction of Greenhouse Gas Emissions
Renesas mainly uses Perfluoro Compound (Note 1) gas, one of the greenhouse gases, as a cleaning gas for reaction chambers in the semiconductor manufacturing process. These gases are not easily decomposed, and their global warming potential (Note 2) is high, ranging from about 7,000 to more than 20,000. Therefore, the reduction of these emissions is important, and we are actively working to prevent global warming by setting targets for reducing PFC gas emissions. Methods to reduce greenhouse gas emissions from PFC gas include 1) changing to smaller GWP gases, 2) reducing PFC gas usage by optimizing processes, and 3) installing detoxification equipment to decompose PFC gases. By combining these three methods, our group has been developing technologies to reduce its emissions target to 90% of the 1995 emission level or lower by 2010. Since 2010 we have continued our reduction efforts, despite structural reforms, and made a large reduction in 2015 where emissions were approximately 20% lower than the 1995 emission levels.

Now that the structural reforms have been completed and we have entered into a growth phase, in 2021, compared to 2015, we achieved a 0.008 percentage point reduction in wafer area per unit of production and approximately 18% reduction in total emissions. Efforts will continue to be made to further reduce emissions beyond 2021.
Note 1: PFC; The semiconductor industry has declared emission reductions for CHF3, CF4, C2F6, C3F8, C4F8, SF6 and NF3
Note 2: GWP; a coefficient indicating how much a given mass of greenhouse gas is estimated to contribute to global warming (CO²=1)
图像

图像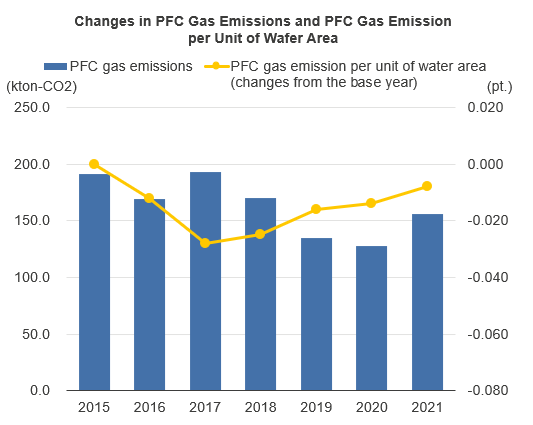 PFC gas
GWP
Perfluorocarbon (PFC)
CF4
7,390
C2F6
12,200
C3F8
8,830
C4F8
10,300
Hydrofluorocarbon (HFC)
CHF3
14,800
Sulfur hexafluoride (SF6)
22,800
Nitrogen trifluoride (NF3)
17,200
Seven PFC gases subject to reduction in the semiconductor industry and Global Warming Potential (GWP) (Note 3)
Note 3: 2006 IPCC Guidelines (IPCC: Intergovernmental Panel on Climate Change)
Environmental Measures in Logistics Operations 
In Japan we engage in logistics-related environmental activities (such as energy reduction for product and waste transportation, and the reduction and reuse of packaging materials).
In Japan, there are recommendations to reduce energy intensity against revenue under the Energy Conservation Law, and therefore all of our Japanese affiliates promote the reduction of transportation related CO² emissions. 

In 2021, in comparison to the previous year, we reduced the product related transportation by 1,300,000 ton kilometers and recorded 2,700,000 ton kilometers for waste transportation. We also recorded 4,570,000 ton kilometers for the overall transport volume within Japan, a decrease of 1,080,000 ton kilometers from the previous year. We will continue our efforts to reduce transportation energy in 2022.
Fiscal Year
Transport Volume (10,000 ton-kilometers)
Product logistics
Waste logistics
Total (Japan)
2021
245
212
457
2020
380
185
565
2019
495
186
681
2018
533
191
724
Protecting the Ozone Layer
We have completely eliminated the use of ozone-depleting substances (ODS) that are listed in the Montreal Protocol, such as such as chlorofluorocarbons (CFC) and hydrochlorofluorocarbons (HCFC) from our manufacturing process. In addition, we are systematically reducing the amount of CFCs used as refrigerants in freezers, refrigerators, and air conditioners in accordance with the Montreal Protocol regulations and are switching to alternative substances. At the same time, we are meticulously respecting reduction measures by collecting ODS when the equipment in question is disposed of. We are also planning to replace any equipment that uses CFCs, from large scale freezers and compact refrigerators, to equipment that systematically uses refrigerants with a low depletion potential. In 2021, no equipment will be in operation and expect all equipment to be replaced in 2022.
Results of Renewable Energy Power Generation
At Renesas, we have installed solar panels at some factories to compensate for a portion of the electricity used for production. In 2021, we generated 733 MWh of electricity. The output has decreased by approximately 70% from 2018, due to the discontinuation of some lines where solar panels are installed.
图像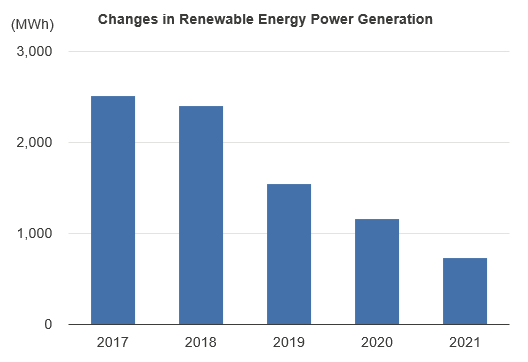 Tree Planting Initiative to Address Climate Change
In an effort to realize our aspiration to grow further as a sustainable company and become a company that gives something back to society, we made a donation to the international NGO Oxfam that supports global reforestation activities, embarking the planting of 20,000 trees worldwide in 2020, 20,000 being the number of employees at Renesas at that time.
We will continue to support and implement global climate change initiatives in the future.
Contributing to SDGs
Renesas' efforts in Climate Change Initiatives contributes to these Sustainable Development Goals targets:
图像

7.2 By 2030, increase substantially the share of renewable energy in the global energy mix
图像

9.4 By 2030, upgrade infrastructure and retrofit industries to make them sustainable, with increased resource-use efficiency and greater adoption of clean and environmentally-sound technologies and industrial processes, with all countries taking action in accordance with their respective capabilities
图像

13.3 Improve education, awareness-raising and human and institutional capacity on climate change mitigation, adaptation, impact reduction and early warning
---