Environmental load reduction activities at factories
Global Warming Prevention through Energy Conservation
To prevent global warming, the Renesas Electronics group in Japan actively takes part in the energy saving activities of the semiconductor industry. To achieve the target of the electric appliance and electronics industry and the reduction target of the Energy Conservation Act, the group continuously promotes energy conservation activities.
Reducing Energy
The Renesas Domestic Group has been participating in the Commitment to a Low Carbon Society that has been promoted by the electrical and electronics industries since fiscal 2013. The Commitment to a Low Carbon Society sets fiscal 2012 level as the baseline and aims to achieve 92.27% or below of the baseline in fiscal 2020 by reducing energy consumption per unit of sales by 1% each year.
Results of FY 2019 Reductions
For performance for fiscal 2019, we reduced energy consumption by 42% compared to the base year and by six points compared to fiscal 2018. This was achieved not only by the concentration of factories via consolidation, but also by energy-saving measures and careful energy management that were implemented by each factory.
In fiscal 2019, we intend to continue promoting energy saving measures, to focus on the efficient use of energy that is appropriate for our business activities, and to promote efforts to further reduce energy consumption and prevent global warming.
Image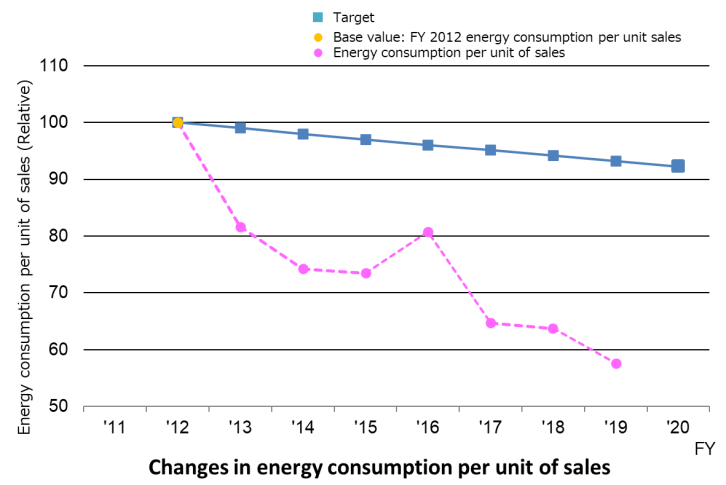 Amount of energy consumed
Renewable energy power generation
At our group factories where a large amount of power is consumed, the percentage of renewable energy to the total energy used is kept low in light of economic rationality. However, we installed solar panels on the roofs of some factories to provide part of power required for production.
In fiscal 2019, 1,542 MWh was generated by solar panels, which was a reduction by about 35% from the previous year due to the stopping of some production lines for which solar panels were installed.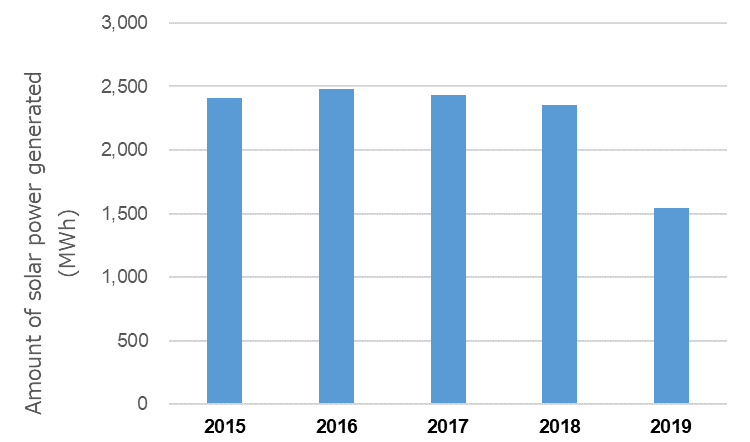 Main measures to reduce energy consumption
On the production lines, we are implementing activities that aim to reduce specific energy consumption by an average of more than 1% per year over the five-year period in line with the energy consumption reduction goals specified in the Energy Saving Act.
Specifically, we will implement measures to make equipment more efficient and achieve better inverter control and measures related to natural energy and the heat of vaporization in a systematic manner while giving due consideration to the effects of energy saving and investment. Moreover, we will optimize the operation of facilities according to changes in production volume.
 
Item
Details
1
Enhancement of equipment efficiency
Refrigerator replacement, optimal control
Compressor replacement, machine number control
Boiler replacement
Dry pump replacement
2
Motor inverter control (rotation control)
Air-conditioner fan, various pumps
3
Natural energy
 Reuse of energy
 Vaporization energy, etc.
Winter-free cooling
Waste heat recovery and reuse
Water spray humidification
Examples of the introduction of energy-saving
Reducing GHG Emissions
The Renesas Electronics Group uses PFC*1 gas, which is a greenhouse gas, primarily as a reaction chamber cleaning gas for semiconductor production processes. These gases do not readily decompose, and since their global warming potential (GWP*2) is between 7,000-20,000 or even higher, it is critical to reduce these emissions. The Group has therefore set PFC gas emission reduction targets and is actively working to help prevent global warming. Methods of reducing the greenhouse effect of PFC gases include 1) switching to gases with a lower GWP, 2) optimizing processes to reduce the volume of PFC gases used, and 3) installing abatement systems that remove PFC gases to break them down. The Group has been developing technology to cut emissions to 90% or lower in 2010 as compared to 1995, using a combination of these three techniques.
In fiscal 2019, compared to in fiscal 2015, the volume of PFC gas emissions per unit of wafer area was reduced by 0.024 points and the total amount of emissions was reduced by about 33%. We plan to further reduce emissions in fiscal 2020 and beyond.
*1 PFC: Perfluoro Compounds: (The semiconductor industry has specified CHF3、CF4、C2F6、C3F8、C4F8、SF6、NF3 as PFCs for emissions reduction targets.)
*2 GWP: Global Warming Potential:a coefficient indicating how much a given mass of greenhouse gas is estimated to contribute to global warming (CO2=1)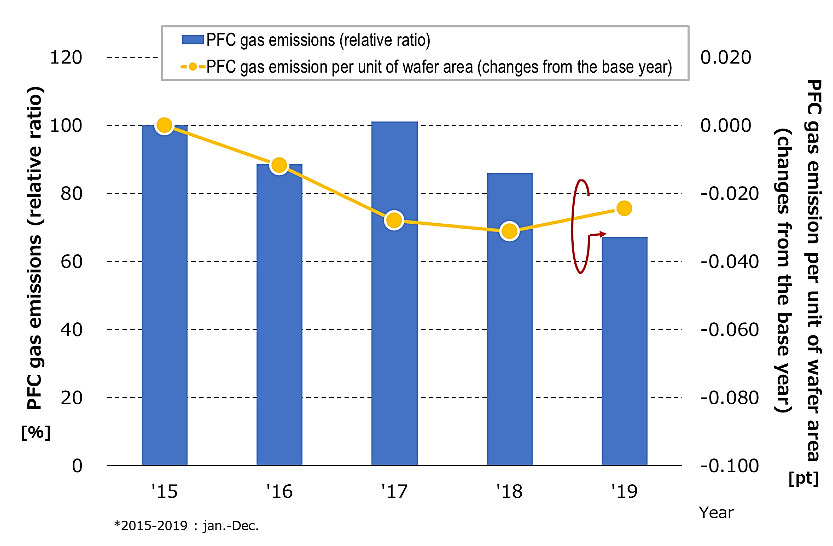 PFC gas
GWP
PFC (perfluorocarbon)
CF4
7,390
C2F6
12,200
C3F8
8,830
C4F8
10,300
HFC (hydrofluorocarbon)
CHF3
14,800
SF6 (sulfur hexafluoride)
 
22,800
NF3 (nitrogen trifluoride)
 
17,200
Seven PFC gases subject to reduction in the semiconductor industry and Global Warming Potential (GWP)*1
*1 2006 IPCC Guidelines (IPCC: Intergovernmental Panel on Climate Change)
Protecting the Ozone Layer
The Montreal Protocol on Substances That Deplete the Ozone Layer classifies ODSs*1 into Class I (CFCs*2, etc.) and Class II (HCFCs*3). The Group has completely eliminated the use of all of these(ODS*4)from our production processes.
Furthermore, we are systematically reducing the use of CFCs used as refrigerants in chillers, refrigerators, air conditioners and other equipment and replacing them with alternative substances in line with Montreal Protocol program. We are also recovering ODSs when affected equipment is scrapped and making sure these substances are destroyed.
*2 CFC: Chlorofluorocarbons
*3 HCFC: Hydrochlorofluorocarbons
*4 ODS: Ozone-depleting substances
Environmental Measures in Logistics Operations
The Renesas Electronics group in Japan implemented a variety of different environmental measures for its logistics operations. These included energy reduction for the transport of products and waste, reduction of packing materials for products, reuse of packing materials, and the switching of company vehicles to fuel-efficient cars.
Pursuant to the Act on the Rational Use of Energy, which stipulates specified consignor obligations, we promoted the reduction of CO2 emissions in our logistics operations. In fiscal 2019, our CO2 emissions was 6.81 million ton-kilometers, a reduction of 430,000 ton-kilometers from the previous year. In fiscal 2020, we will continue our efforts to reduce transportation energy consumption.
Fiscal Year
Transport Volume (10,000 ton-kilometers)
Renesas Electronics
Group companies other than Renesas Electronics
2017
472
365
2018
391
333
2019*5
487
194
Domestic transport volume
*5 Since we integrated group companies in charge of post-processing into Renesas Electronics Corporation in fiscal 2019, the domestic transport volume has increased by 960,000 ton-kilometers from the previous year.
Chemical Substance Management
The Group conducts various assessments of the chemical substances it uses, based on its chemical substance database compiled through green procurement activities and the acquisition of information about related laws and regulations. The Group strives to accurately understand and reduce the total volume of chemical substances used and manages the volume of hazardous chemical substances used and their emissions. In this manner, we are pursuing research and development for green products and eco-factories. With regard to substances subject to the PRTR*1 Law and VOCs*2, high balance management is accurately carried out even with trace amounts, not only balance results are reported to the government, but activities for substitution of chemical substances and reduce emissions are analyzed.
*1 Pollutant Release and Transfer Register Law:(A law concerning the monitoring of emissions of specified chemical substances into the environment and their management)
VOCs : Volatile Organic Compounds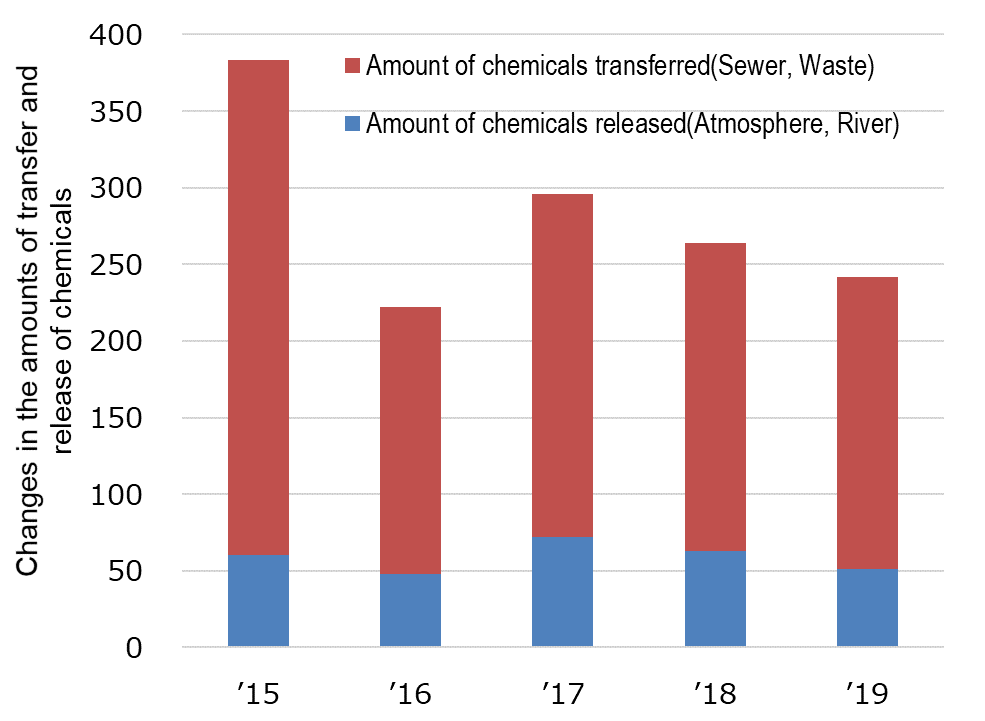 FY2000-FY2015 : Apr.-Mar.(12 months)
FY2016 : Apr.-Dec.(9 months)
FY2017-FY2019 : Jan.-Dec.(12 months)
Reducing VOC Emissions
In the Renesas Electronics Group, VOCs such as isopropyl alcohol and xylene are released from factories only after they have been rendered as harmless as possible by equipment that processes organic gas emissions. Along with this, we optimize production processes and use production equipment effectively as we endeavor constantly to lower VOC emissions.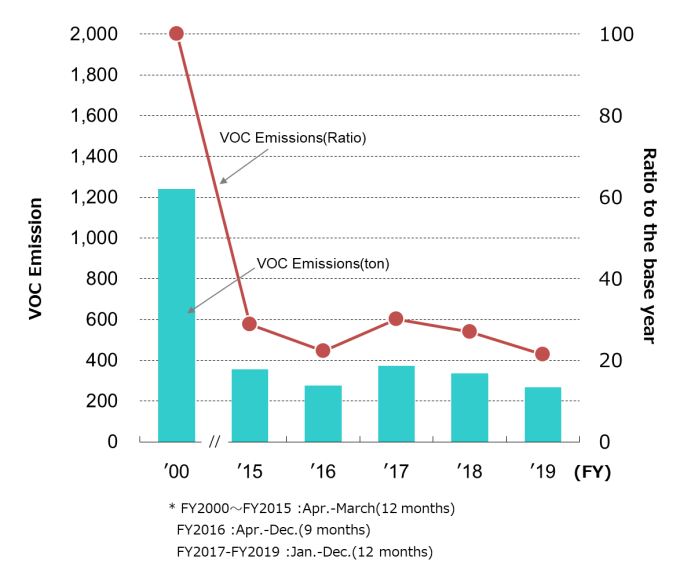 Handling of organic fluorine compounds
The Renesas Group uses materials that contain organic fluorine compounds as surfactants in the semiconductor manufacturing process. In recent years, concerns have been growing about the properties of organic fluorine compounds, such as persistence in the environment, bioaccumulation potential, and long distance mobility, and regulations concerning organic fluorine compounds have been tightened internationally through the POPs Convention*1. In response to such a social context, the Group has been gradually shifting to materials that have less of an impact on the environment in collaboration with the Technology Department.
*1 POPs Convention: Stockholm Convention on Persistent Organic Pollutants
Conserving Water Resources
The Renesas Electronics group in Japan promoted water conservation by recycling and reusing water.
For domestic performance for fiscal 2019, the total amount of water consumption was 23,113,000 m2, the amount of water supplied annually was 14,783,000 m2, and the recycling rate was 36.0%.
Image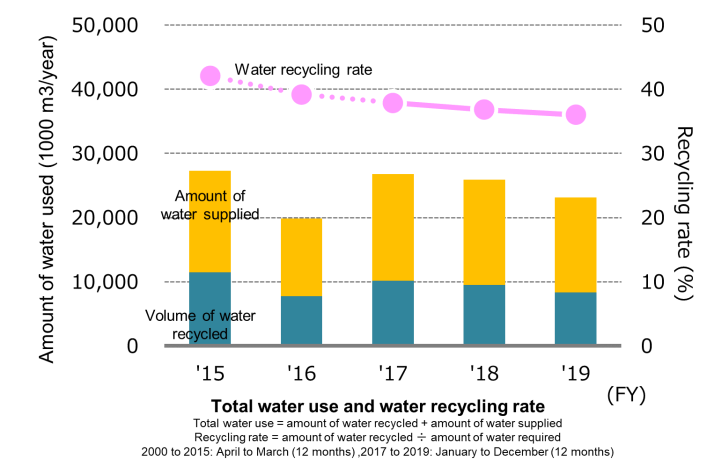 Waste Management
The Renesas Electronics Group in Japan promoted not only the recycling of waste but also the suppression of waste emissions. The emissions in FY 2019 were 12,627 t.
Additionally, we practiced strict legal compliance and continued to periodically visit our industrial waste processing contractors to ensure that they were processing waste appropriately.
The Group practices strict storage, management and reporting of equipment that uses PCB*2, in accordance with the law. We promote the systematic disposal of waste that ensures the completion of safe and secure disposal by the deadline designated by the basic policy of the Japanese government by outsourcing the disposal of high concentration PCB waste to the Japan Environmental Storage & Safety Corporation (JESCO) and the disposal of waste containing low concentrations of PCB to accredited detoxification facilities.
*2 PCB:Polychlorinated Biphenyl
Image
Preventing Soil Pollution
If hazardous chemicals penetrate into the soil, they can accumulate in the soil and impact human health, crops, and the ecosystem.
In an effort to prevent the penetration of hazardous chemicals into the soil, the Group systematically implements measures to reduce the risk of the leakage of chemicals and prevent their penetration into the soil in the event of leakage. These measures, some of which are given below, are implemented as environmental investment.
Moreover, through the environmental audit we conduct annually at each base, we check the management of chemicals, including storage for chemicals, facilities management status, and response procedures in the event of leakage, and actively make recommendations as to risk reduction measures.
Construction work to prevent leakage from waste liquid collection facilities (Kawashiri factory and Saijo factory)
Construction work to prevent the leakage of medical solutions (Saijo factory)
Construction work to prevent underground seepage (Naka factory, Musashi site)
Contact Us