Features of Digital Power Supply
Renesas offers digital power and analog solutions for baselights, downlights and outdoor lights. Features of the digital power supply include a reduction in the number of components, a shorter development period and improved power supply performance. See the Digital Power Supply Solutions for Lighting Fixtures page for more information. As part of our lighting solutions offerings, Renesas provides an LED lighting evaluation environment and the software evaluation environment required for developing digital power supplies.
Digital Power Solution Product Lineup
图像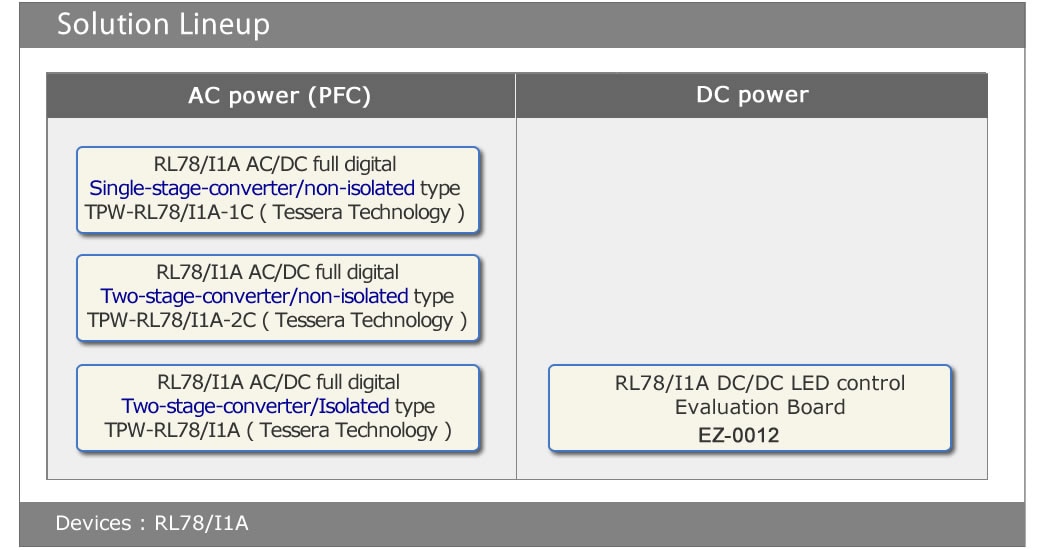 EZ-0012  |  TPW-RL78I1A  |  TPW-RL78I1A-1C  |  TPW-RL78I1A-2C
Digital Power Supply Configuration Example:
RL78/I1A AC/DC Full Digital Evaluation Board
This board is a single-chip MCU-based solution that provides power factor correction (PFC) control, multi-channel LED control, and communication and sensor-based dimming and toning control, which are necessary for baselights and ceiling lights. Whereas analog ICs require adjustments using external components when the system control must be modified, the single-chip MCU-based full digital solution can accommodate such changes through modification to the control software. Therefore, a common circuit design can be applied to different sets of specifications for the construction of power board platforms.
Features
Evaluate LED dimming/toning control using the RL78/I1A MCU.
Powered by AC 100V to 240V
Up to 6 channels can be controlled with individual 16-bit dimming
LED power: max. 90W (30W/ch)
LED Vf total: max. 90V/ch, LED current: max. 350mA/ch
Dimmer interface: DALI and DMX512 communications, IR sensor, switch × 3 ch
On-chip debugging and flash rewriting capable (via USB cable or E1 emulator)
Supports the software auto-generation tool Applilet EZ lighting design GUI
Supports IEC 61000-3-2 Class C, CISPR 15
IEC 61347/60950 compliant design
图像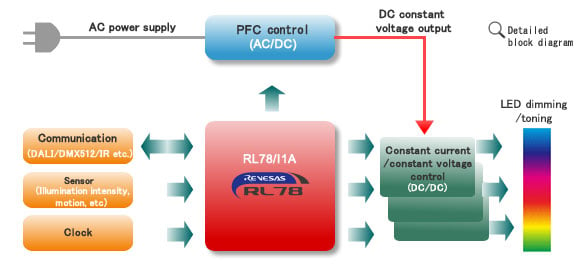 图像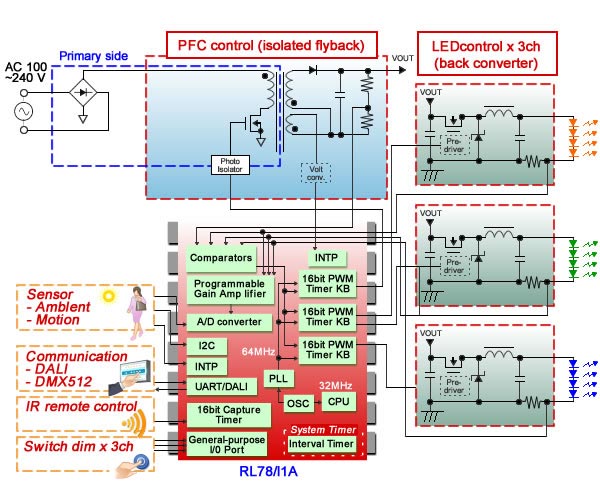 ---
Additional Lighting Resources
Analog Downlight Solutions
LED Light Bulb Solutions
Lighting System Communications
Recommended Devices for LED Lighting