Delivering low-power and high performance for fully immersive browsing, gaming and rich multimedia experiences using ARM® big.LITTLE™ technology for smartphones and superphones
2013年2月14日
TOKYO, Japan, 14th February, 2013 — Renesas Mobile Corporation, an innovative supplier of advanced cellular semiconductor solutions and platforms, today announced the MP6530, its latest generation communication processor platform for LTE smartphones. The MP6530 extends the Renesas Mobile portfolio for mid- to high-end handsets priced between $200 and $400 by integrating a high-performance, up to 2GHz, applications processor with a product-proven LTE Cat-4 modem on a single die. Based on ARM® big.LITTLE™ technology, the processor combines high performance, to deliver exciting multimedia use cases, and extreme power efficiency to extend device battery life. Samples of the MP6530 platform will be available to Tier 1 OEMs in early 2013.
big.LITTLE connects the high performance of the ARM Cortex-A15™ MPCore™ processor with the energy efficiency of the Cortex-A7™ processor, to enable application software to switch seamlessly between them. As shown in Figure 1, the Cortex-A15 processors can be used for compute-intensive applications, such as console-like gaming, fast page rendering and downloads while browsing, and media editing and processing. The Cortex-A7 processors take over to most efficiently process the majority of smartphone workloads and background tasks such as social media and email syncs, audio or video playback and other always-on, always-connected tasks.
"This ground-breaking addition to our integrated single-chip smartphone platform portfolio ensures that the balance between exciting compute-intensive applications and the power efficiency that extends battery life is always just right," commented Jean-Marie Rolland, chief technology officer and executive vice president of marketing and sales for Renesas Mobile Corporation. "The enhanced performance and impressive multimedia capabilities also allows our OEM customers to bring optimized mid- to high-end LTE devices to market quickly. The next-generation MP6530 is addressing current market needs as well as providing support for smartphone devices as they evolve."
The MP6530 platform (shown in figure 2) represents a massive performance increase over Renesas Mobile's mid-tier MP5232 platform, to support more highly complex applications. GPU performance has been increased by 300 percent to effortlessly deliver immersive gaming experiences, compelling 2D and 3D interfaces and screens. It also drives full high-definition (HD) simultaneous 1080p video encoding and decoding for action-packed videos on the go. Renesas Mobile has also increased the memory performance 300 percent to enable new multimedia use cases and features such as full HD external display support and full HD over WiFi, allowing more people to bring mobile phone content to larger screens in their living rooms. In addition, the platform's enhanced imaging capabilities can deliver features that allow a smartphone to replace a digital still camera, with support for high-megapixel, digital SLR-like, on-the-fly imaging support, real-time face detection, image stabilization and noise filtering.
"The emergence of LTE is transforming smartphones into high-performance and always-on mobile multimedia computers. The challenge for enabling chipsets is to provide the best balance between high-performance and energy-efficient computing" said Malik Saadi, principal analyst – cross portfolio with Informa. "One of the best ways to achieve this goal is to integrate the LTE modem with a smart multi-geared CPU capable of selecting the optimum processor for each task handled."
The MP6530 inherits the maturity of the proven Cat-4 LTE modem used in the Renesas Mobile MP5232 platform. This provides the industry's highest throughput and low-power multi-mode FDD and TD-LTE Cat-4 capabilities, and OEMs can also benefit from significant development and certification efforts. This technology maturity essentially removes modem certification from customers' critical paths, reducing development costs and time to market. Existing MP5232 platform customers also benefit from a strong roadmap, new products and greater diversity.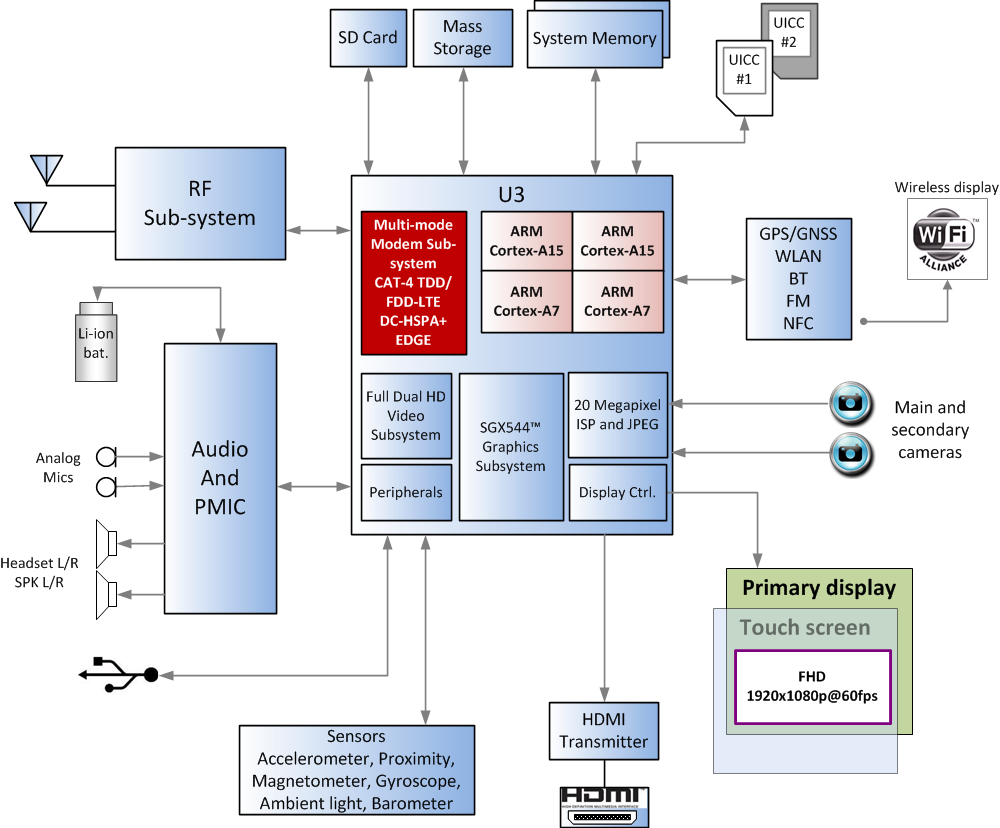 About Renesas Mobile Corporation
Renesas Mobile Corporation (RMC) is a wholly owned subsidiary of Renesas Electronics Corporation (TSE: 6723) and offers advanced and innovative products and services for mobile phones, car infotainment solutions, consumer electronics and industrial applications. Renesas Mobile's mission is to develop, productize and deliver communications centric semiconductor chipsets and complete hardware and software platforms built on these chipsets to meet the needs of our customers in these markets. Renesas Mobile provides complete cellular chipset platform solutions including powerful applications processors, leadership and industry reference cellular modems, highly integrated radio frequency devices and intelligent power management solutions. Renesas Mobile offers our customer complete system and software expertise to develop flagship devices more rapidly.
(Remarks) big.LITTLE is the trademark of ARM Limited in the EU and elsewhere. All rights reserved. Names of products or services mentioned in this press release are trademarks or registered trademarks of their respective owners.
Key Features of MP6530
Quad-Core Applications Processor Engine
Quad core communications processor with dual cortex A15 and dual cortex A7
Leverages big.LITTLE™ technology to optimize performance and power with full multiprocessing capability
Multimedia capabilities
Full HD primary display up to FHD@60Hz
Simultaneous HDMI/MHL external display output (1080p30)
Full HD WiFi Display
Support for simultaneous 1080p30 video encoding and decoding
High-quality, high-megapixel digital SLR-like imaging support
On-the-fly support with real-time face detection, stabilization, noise filtering to replace digital still cameras
Integrated mature LTE Cat-4 modem
TD-LTE and FDD-LTE Cat-4 (150 Mbps downlink and 50Mbps uplink)
HSPA+ features such as DC-HSPA+ Cat-24 and HSUPA Cat-7 giving HSPA+ data rates of 42Mbps (DL) /11.5Mbps (UL) respectively, with global coverage through its unique RF systems design.
Industry's best-in-class performance and network efficiency based on patented advanced technologies
Ultra-low power consumption for extended battery life with optimized power management features
Renesas Mobile's highly integrated triple-mode Cat-4 modem has long been used to test and tune LTE networks.
The LTE modem supports multiple world-wide simultaneous band combinations in a compact form factor which is achieved through an RF subsystem design that includes a 65nm multi-mode LTE transceiver and a highly optimized multi-mode multi-band power amplifier module.
---
The content in the press release, including, but not limited to, product prices and specifications, is based on the information as of the date indicated on the document, but may be subject to change without prior notice.