RX Family Development Environment
Renesas offers a wide range of easy-to-use evaluation boards including Renesas Starter Kits which come complete with a board and software making it easy to get started with MCU development, and Renesas Solution Starter Kits that make it easy to evaluate solutions such as motor and touch key control. In addition, we offer a rich variety of boards produced by our partners.
Renesas Starter Kits
ALL-IN-ONE Tool Kit for Evaluation and Introduction of MCUs
Do you need to jump start your RX Family evaluation? If yes, this will be the best and affordable development toolkit for you. You can obtain all the development environment elements needed for evaluation or introduction of the MCU. The CPU board has the application headers to output the control signals from an MCU and can be connected to a user system for debugging.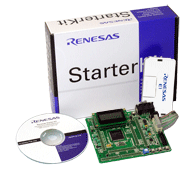 Renesas Solution Starter Kits
Making it Easy to Evaluate Solutions
This kit makes it easy for you to evaluate solutions offered by Renesas for motor control and touch key control. It includes an evaluation board, equipment (motor, etc.), an emulator, development tools, a sample program, and more, which is necessary for evaluating a solution. Start evaluating immediately upon opening the box.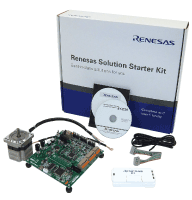 Target Board for the RX Family
Affordably Priced Target Board Makes it Easy to Try RX 32-Bit MCUs
This board can be used for developing products in which RX Family MCUs are to be used, such as home electrical appliances or automation devices for buildings and industry.
Create and evaluate prototypes with this board since through-holes are present for use with pin headers in a way that allows you to freely expand the peripheral circuits; an emulator circuit is also mounted on the board.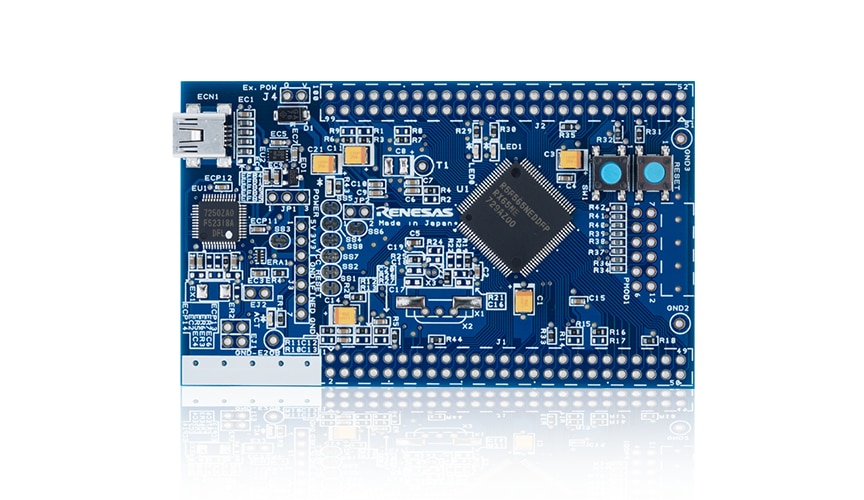 Renesas Promotion Boards
Envision Kits
Simplifies the evaluation of human machine interfaces (HMI).
This is an all-in-one kit which includes a WQVGA TFT-LCD to simplify the development of GUIs. With the sample demonstration which is preinstalled on this kit, you can experience aspects of performance such as the updating of firmware with a dual-bank flash function which makes the best use of the advantages of RX65N, RX651 and RX72N 32-bit MCUs, and the graphics produced by an LCD controller and a 2D drawing engine.
The source code of the sample program can be used for developing products in which RX MCUs are to be used, since it is available on the web for free.
In addition, application software can be designed without having the additional need to purchase an emulator, since an emulator circuit is mounted on the board.
The RX72N version of the kit offers higher performance since the RX72N 32-bit MCU includes the latest version of the RX core and large capacity memory. It also provides an on-board Wi-Fi module, audio DSP, MEMS microphone, Ethernet connector, and SD-card slot as standard items.
RX65N Envision Kit
RX72N Envision Kit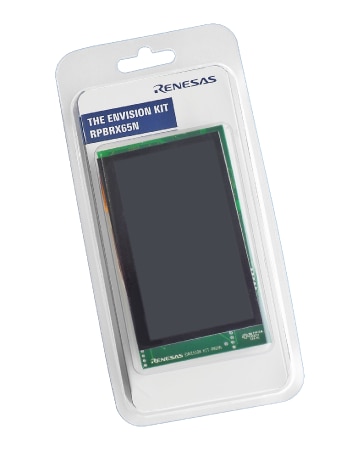 Image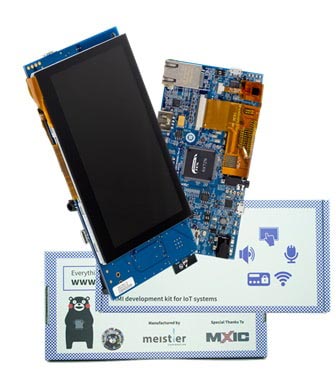 Evaluation Boards for Specific Fields
RX231 HMI Solution Kit (R0K5RX231D000BR)
This is an human machine interface (HMI) solution development kit, which includes the RX231 high power efficiency 32-bit microcontroller with USB and capacitive touch functions; it also includes the Smart Analog IC SAIC 101 for controlling a 16-bit A/D converter, amplifier gain, etc. The demo software pre-programmed in Flash ROM allows for checking the operations of USB, LCD, capacitive touch, voice memo, sensor control, pedometer, etc.
Image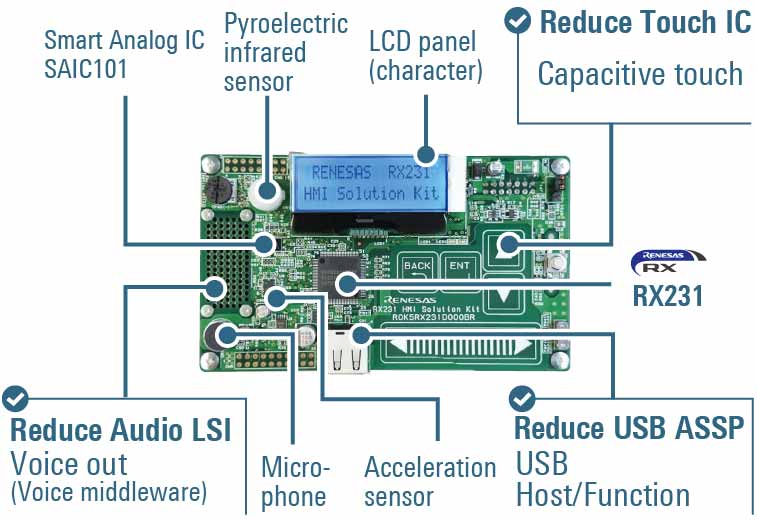 Renesas RX65N Cloud Kit
Helping You to Start Developing IoT Devices
This RX65N-based kit for evaluating cloud communications is connectable via Wi-Fi with Amazon Web Services (AWS). You can send data detected by the sensors (temperature and humidity sensor, optical sensor, and 3-axis accelerometer) mounted on the kit's circuit board to the AWS cloud and view graphs of the results in your browser. This kit provides an ideal evaluation environment and will help you in starting to develop IoT devices.
Image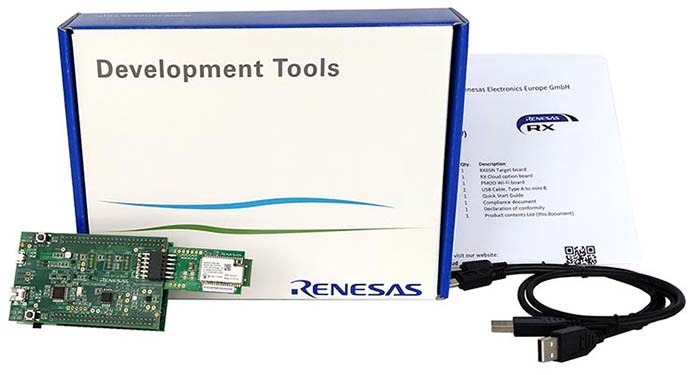 Boards from Renesas Partners
A wide variety of boards from Renesas Partners also available.