Renesas' robust and highly accurate digital power monitor (DPM) family offers a high level of integration and a range of capability including high common mode voltage support, full featured bidirectional, high-side and low-side digital current sense, and voltage monitors with fast interrupts and serial interface.
What are Digital Power Monitors?
Digital power monitors are integrated solutions that provide high-side, low-side, and bidirectional current monitoring, as well as voltage monitoring, and use an on board ADC to provide digital feedback.
Digital power monitors can be used with a battery, DC motor or the loading of the circuit. Knowing the amount of current flow is important for performing such features as:
Battery charging
Motor speed control
Short circuit detection
Amplifiers are used in applications to measure the amount of current flow through a circuit. An amplifier is used to amplify the voltage developed by the current sense so it can properly drive the ADC.
Digital power monitors integrate the amplifier and ADC into a single IC to measure both current and voltage and now provides digital output to the microcontroller or FPGA.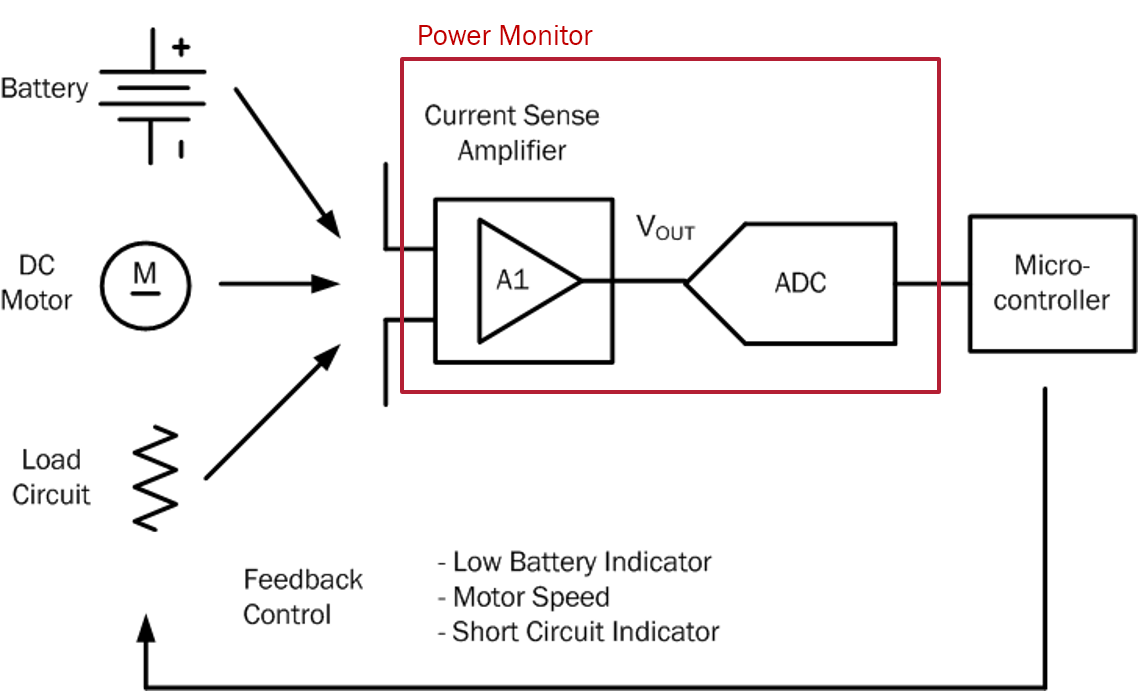 Digital Power Monitor Applications
Power Systems
A primary application for a DPM is to measure current, voltage and power in a power system. The 0V to 60V input voltage range works well in circuit breaker and system health applications.
In the example circuit, a principal ISL28025 DPM monitors the regulated 12V to 60V line that feeds several power subsystems, and additional ISL28025 devices are used to monitor a lower regulated voltage and individual loads.
Power modules are also added to the circuit for high current point of load applications. The ISL28023 and the ISL28025 follow the PMBus industry-standard protocol, simplifying the coding required for communication.
The SMBAlert line provides quick feedback if a threshold is crossed, indicating a problem in the circuit and allowing easy identification of the problem area. A second SMBAlert line is also used to shut down the main power through analog components for an even faster response time.
For more application design ideas, see AN1955: Design Ideas for Intersil Digital Power Monitors (PDF).
Alternatives
Renesas' family of DPMs includes the ISL28023 full featured digital power monitor and the ISL28025 digital power monitor in a tiny package.
If analog output voltage is required, please also see our ISL28005 low cost alternative and ISL28006 high-performance current sense amplifier products.