As a result of increasing "intelligence" requirements, modern hearing aid designs have become more sophisticated in recent years. New features include wireless connectivity to provide customization capability via smartphone apps, active noise cancellation and quasi-HI-FI quality combined with low power and light weight. The purpose of the system proposed here is to purely focus on the charge box, which includes following functionalities: (1) Alternative supply inputs, either via USB or via a wireless power receiver, (2) 5V battery charger followed by a 3000mAh Li-ion power bank and (3) Two separate charge paths for each earbud.​
System Benefits​:
Integrated single-cell Li-ion or Li-polymer battery charger capable of operating with an input voltage as low as 2.4V.​
Cost-effective, fully integrated, high input voltage, single-cell Li-ion battery charger.​
Buck-boost switching regulator that accepts input voltages either above or below the regulated output voltage and delivers 1.2A of output current.​
Wireless power receiver IC (Rx) for up to 5W applications.​
Image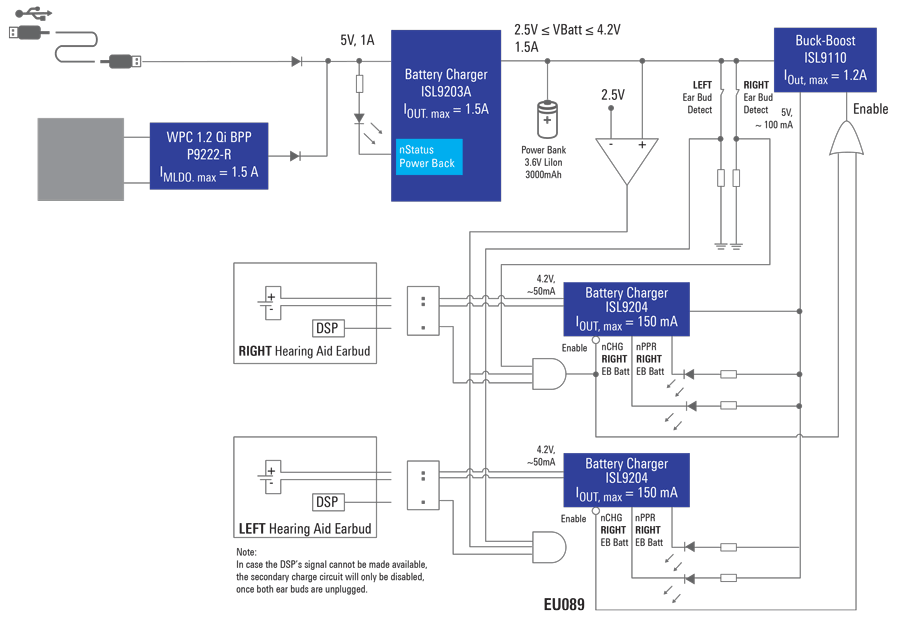 Related Products