Renesas' tire pressure monitoring system monitors real-time air pressure and temperature, alerting drivers of improperly-inflated tires or other safety information immediately.
System Benefits:
SmartBond TINY™, the world's smallest and lowest power Bluetooth® Low Energy (LE) 5.1 system-on-chip (SoC), brings down the cost of adding Bluetooth Low Energy in automotive systems.
Addresses BOM cost reduction through a PCB pattern antenna and a highly integrated low power Bluetooth LE SoC.
No dedicated receiver is necessary in the vehicle infotainment system.
A flexible system power management IC (PMIC) can supply a wide range of multicore SoCs and integrates full power rail management with multiple sleep modes for an optimized system solution.
Reduces cost and development time using PMICs verified for R-Car SoCs.
Reference boards provide a quick and easy start to development.
Image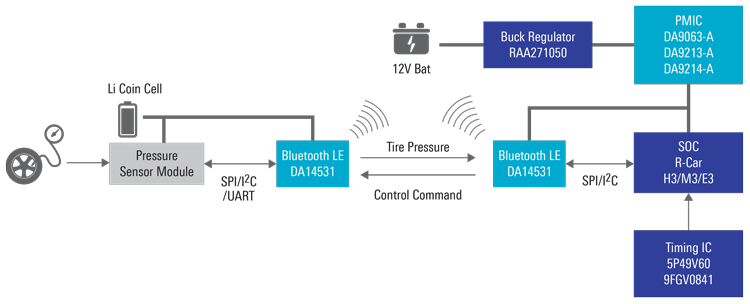 Image

Related Products