The RX family consists of four product series: the flagship RX700 series, with the fastest performance and most advanced functions; the standard RX600 series; the RX200 series, which delivers an optimal balance of power efficiency and high performance; and the entry-level RX100 series, with extremely low power consumption. These four series encompass a range of products that provide seamless scalability from small-scale to large-scale applications.
Learn More About RX
Find by Solution
Find by Specification
Celebrate the RX Family's 10th Anniversary
RX turns 10! Renesas celebrates this major milestone highlighting major achievements – industry-leading 32-bit proprietary core MCU (highest performance 5.82 CoreMark/MHz in this class) with more than 600 million units shipped since launched. We continue to expand RX 32-bit MCU lineup and solutions with top class power efficiency and good system cost performance ratio, aligning with the growing market. Together with the next-generation RX core which has higher performance with well-balanced power efficiency, RX MCU will support the realization of a future cloud society and a human-robot society based on timely release of robust security technology. We are celebrating throughout 2020 by showcasing our most innovative products and solutions in key applications, starting with wireless connectivity that is increasingly important in the digital age. Thank you for sharing the RX journey with us; we are excited for more to come!
Image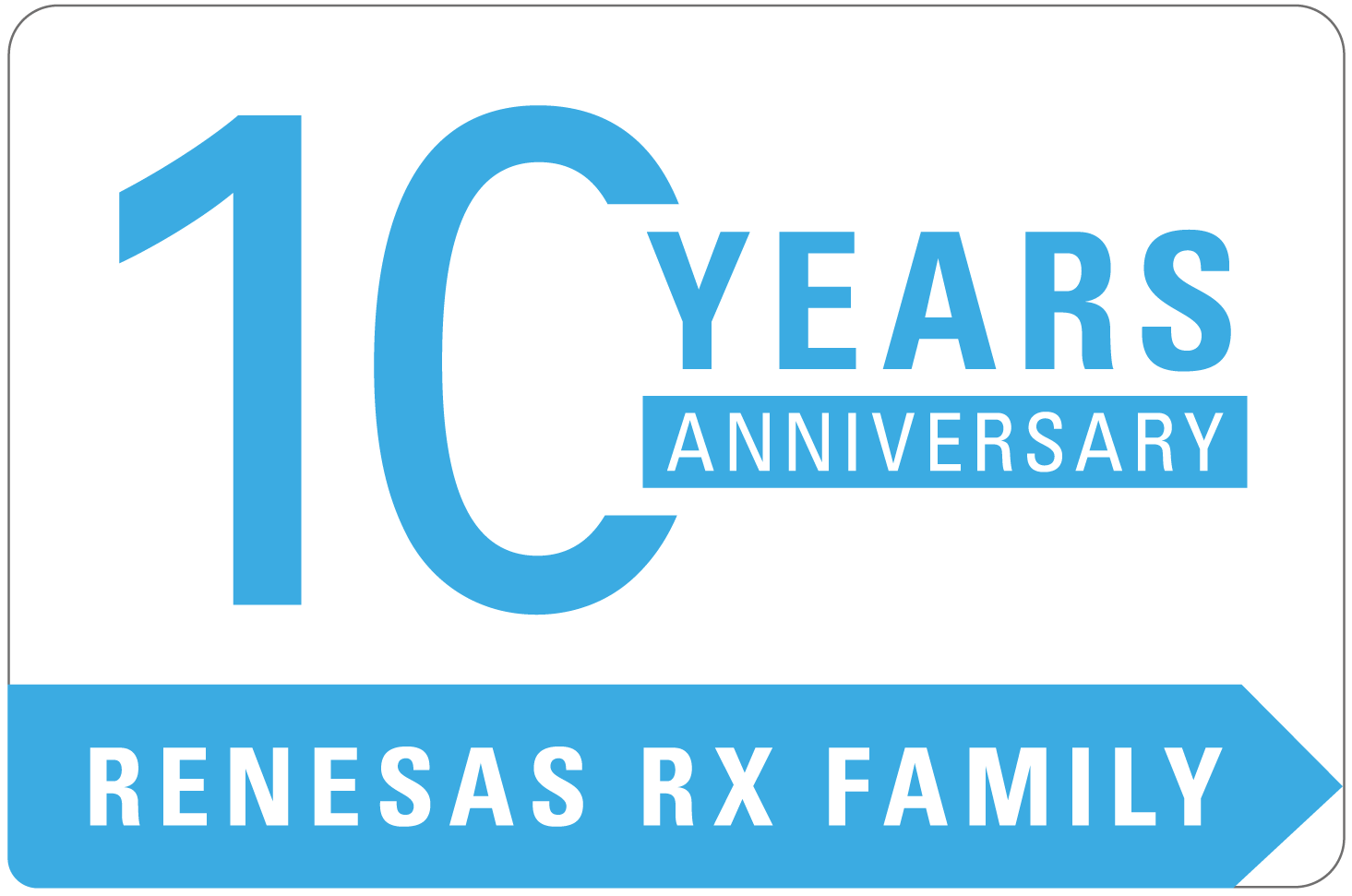 Autonomous Security
With the rapid advances in technology, security is essential for both industrial and consumer products. Autonomous security is required to protect important data such as software and keys from security threats throughout the product lifecycle (development environment, secure provisioning, key management, secure operation and secure firmware update). Implement security effectively by using the Renesas MCUs, which reside in the core of IoT devices. Learn more about RX Security Solutions now.
Human Machine Interface (HMI)
Build a clean and convenient lifestyle with Renesas Capacitive Touch Technology that is highly sensitive and noise tolerant, and enable touch sensing seamlessly in tough environments (wet/oily). It is also easy to clean and disinfect, keeping a high cleanliness level at all times. Also, create non-contact user interfaces by applying capacitive touch technology with 2D and 3D gesture technologies and voice recognition technologies. Customize your HMI design with great flexibility by using the cost-effective GUI solution containing a 1-chip LCD display with a large internal SRAM and 2D drawing engine. Easy-to-use GUI tools supported by our partners are available too. Learn more now.
Industrial Automation Functional Safety with Motor Control
Certified functional safety is mandatory in industrial applications due to the significant effects that can occur when safety checks are not in place. Learn more on implementing functional safety in motor control and discover how the IEC61508 certified RX functional safety solution can accelerate the certification process.
Wireless Connectivity
The RX Cloud and Bluetooth® Low Energy Solutions are ideal for wireless connectivity features for IoT equipment. The RX65N Cloud Kit makes development easier with the FreeRTOS operating system, and the upcoming FreeRTOS Over-The-Air (OTA) program instantaneously updates to the latest firmware, reducing the hassle of life cycle management. The RX23W is able to extend battery lifespan with its low power consumption and has both a target board and a Renesas Solution Starter Kit to shorten development time for Bluetooth applications. Learn more about the wireless connectivity solutions available from the following contents.
Renesas offers the Product Longevity Program (PLP) to help customers select the most appropriate part for applications that require long life cycles.
Roadmap