Wearable devices, such as smart watches, are getting smarter and more power hungry. With the combination of the world's smallest and lowest power Bluetooth® 5.1 system-on-chip (SoC), the DA14531 SmartBond TINY™ Module and the ultra-low power RE01 CPU, Renesas provides a solution that is suitable for battery-powered wearable devices. Since the battery size of wearable devices is generally quite small (i.e., 120mAh), in this reference design the RE01 MCU's processing current can be reduced by half by using external ISL9123 buck regulators, enabling extended battery life.
System Benefits​:
The DA14531 SmartBond TINY™ Module, based on the world's smallest and lowest power Bluetooth 5.1 SoC, brings the DA14531 SoC advantages to an integrated module. DA14531 is certified across regions, providing significant savings in development cost and time-to-market.
RE01 Arm® Cortex®-M0+ ultra-low power MCU based on Renesas' Silicon on Thin Buried Oxide (SOTB™) process technology.
The ISL9123 ultra-low IQ buck regulator enables extended battery life in wearable devices, which require very loaded CPU processing for features such as voice recognition​.
DA9072 highly integrated PMIC for wearables.
High-precision sensors, a pulse oximeter sensor and a humidity/temperature sensor support high-performance sensing functions.
Target Applications:
Battery-powered voice command systems
Smart watches
Wearable healthcare applications
Battery-powered portable devices
Image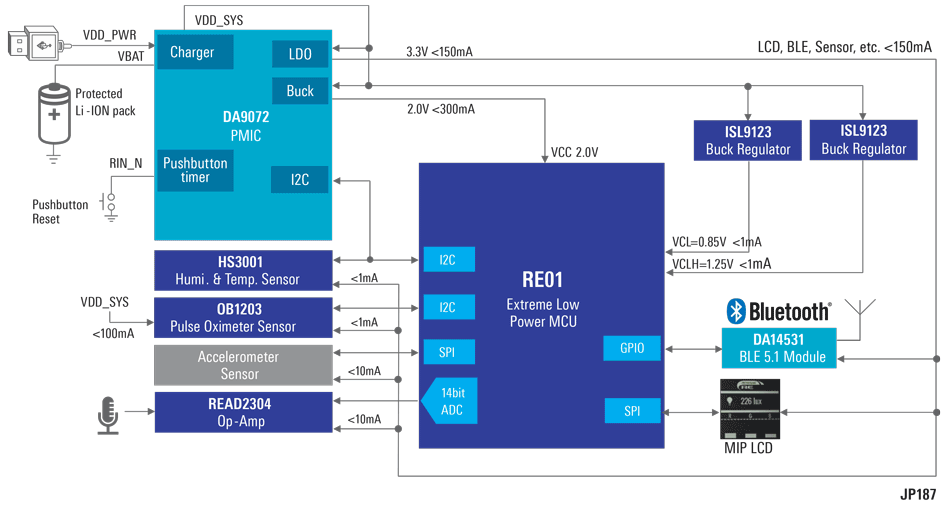 Image

Related Products