Wireless charging for cell phones is quickly becoming a defacto standard for smartphones. Thanks to this rapid adoption, wireless charging is being embraced in many other applications, such as wearable electronics, household electronics and a myriad of sensor-based IoT applications.
Renesas's portfolio delivers the industry's best flexible SoC architecture, efficiency, and hardware/algorithm implementation. The R9A02G011 is a USB power delivery controller that is based on the Universal Serial Bus (USB) Power Delivery Specification Revision 3.0 and USB Type-CTM Cable and Connecter Specification Revision 1.3. This ensures simple compatibility between various products. 
The P9242-G is a highly integrated, magnetic induction, wireless power transmitter that supports up to 15W in compliance with the WPC-1.2.4 specification which is the latest version of the Qi standard and the most widely adopted wireless charging system worldwide. 
Key Features:
Transmitter solution featuring the P9242 and RL78/G13 MCU to enable a flexible system compatible with Qi standards
P9221 receiver solution and power bank solution with a USB PD connection and system power from bi-directional buck-boost voltage regulators, which provides flexibility when choosing the backup battery
The addition of elements such as the ZMOD4410 gas sensor allows for additional safety and environmental monitoring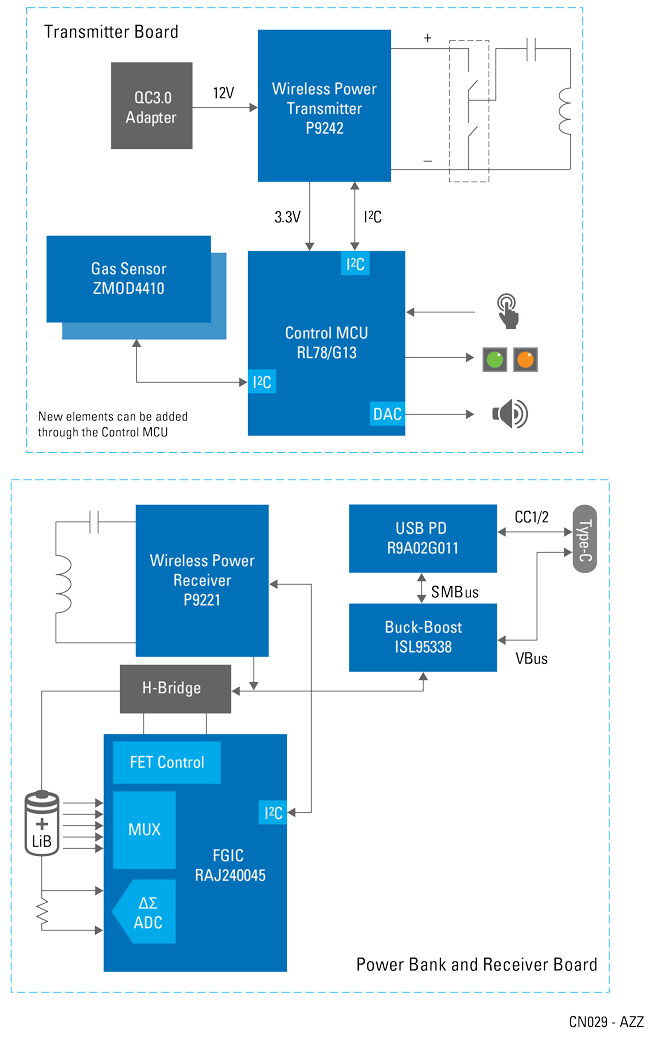 Related Products