IDT's corporate Automotive Quality Division is located at IDT Europe, Dresden, Germany, EU.
IDT Europe has over 20 years of automotive experience in the development and supply of automotive products. 
During its long relationship with the automotive market, IDT Europe has developed and implemented an Automotive Quality Policy that has been successfully certified under the IATF16949 standard over the past years. Since 2009, a Business Process Management (BPM) system has been deployed which meets the requirements of IATF16949.
To support Functional Safety standards, IDT Europe has introduced the ISO 26262 standard throughout its automotive product development and processes and has established the position of the functional safety manager. In 2013, IDT Europe launched a Technology Reliability Monitoring Program focused on its 180nm technologies to support the development of ISO 26262 products with ASIL A to D.
All audits performed by IDT Europe are based upon VDA6.3. Based on the 8D process, IDT Europe can offer a long-term proven automotive failure analysis flow.
Table of Contents
---
Automotive Quality Policy
As an IATF 16949 certified product partner, IDT Europe's Quality Policy is targeted at continuously satisfying its customers with best-in-class services and products.
Quality is of key importance to all employees throughout IDT Europe.
To meet automotive quality expectations, IDT Europe pursues a "Built-In Quality" strategy in all its processes, product developments and operations as well as implementation of the "Voice-of-Customer" and "Voice-of-Supplier" feedback process.
Lean Six Sigma is the method employed to achieve continuous improvement toward "Zero-Incidence Quality." To support this quality goal, IDT Europe shares this policy with its suppliers and promotes its use.
Quality is of strategic business importance to IDT. Our key quality objectives and our key performance metrics are regularly reported in Quality Management Reviews and are communicated throughout IDT Europe.
Certificates
Certification Roadmap
IDT Europe is an IATF 16949 and ISO 9001 certified automotive product company.
IDT Europe is an Authorized Economic Operator (AEO). With this designation, IDT Europe is privileged to participate in the simplified electronic customs communication. As a type F operator, IDT Europe is certified for both customs simplification and security, including within the entire European Union. With the AEO-F certification, IDT Europe also meets the C-TPAT requirements for US customs.
2001: ISO 9001
2004: ISO/TS 16949
2011: AEO-F
2016: ISO/TS/16949 (IDT Europe)
2017: ISO 14001:2015
2018: IATF 16949:2016
2018: ISO 9001:2015 (IDT Bulgaria EOOD)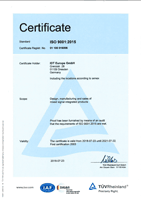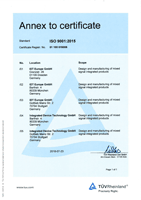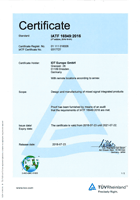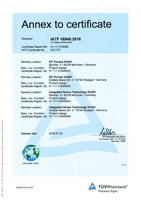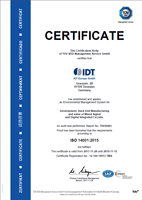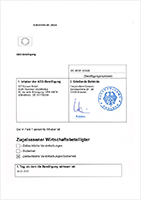 Functional Safety
With the clear trend toward Advanced Driver Assistance Systems (ADAS), safety requirements have been further elevated, which also increases the requirements on the system and products. To this end, the ISO 26262 standard was released in November 2011. This standard is based on the industrial Functional Safety Standard.
IDT Europe has started to develop ISO 26262 products beginning in 2013 with Automotive Safety Integrity Level (ASIL) grades ranging from ASIL A to ASIL D, which are currently in ramp-up.
IDT Europe has introduced a dedicated Functional Safety Manager, who ensures ISO 26262 compliant product development. Functional Safety has been integrated into the automotive product development flow. Customers are also supported in their development using the Failure Mode Effect and Diagnosis Analysis (FMEDA) as well as in the creation of the Development Interface Agreement (DIA). Several automotive project managers have been certified by SGS/TÜV as Functional Safety Engineers or trained in the basic concepts of ISO 26262.
The ISO 26262 requirements have been integrated into the IATF16949 compliant Quality Management System of IDT Europe.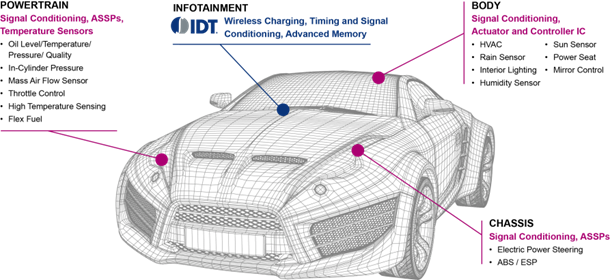 ISO 26262 Customer Support
IDT Europe supports its customers in the development of functional safety systems with analysis of safety goals, failure apportioning and calculation of failure rates to determine the Single Point Fault Metric (SPFM) and the Latent-Fault metric (LFM). Working together with the customer, IDT Europe will create the safety manual and the Design Interface Agreement (DIA).
With practical experience designing ISO 26262 products, IDT Europe can propose respective architectures. Based upon real data from its Technology Reliability Monitoring Program for 180nm technologies, wear-out FIT rates can be provided that cannot be found elsewhere.
IDT Europe employs several tools, e.g. FMEAs, FMEDAs and FTA, to easily exchange data.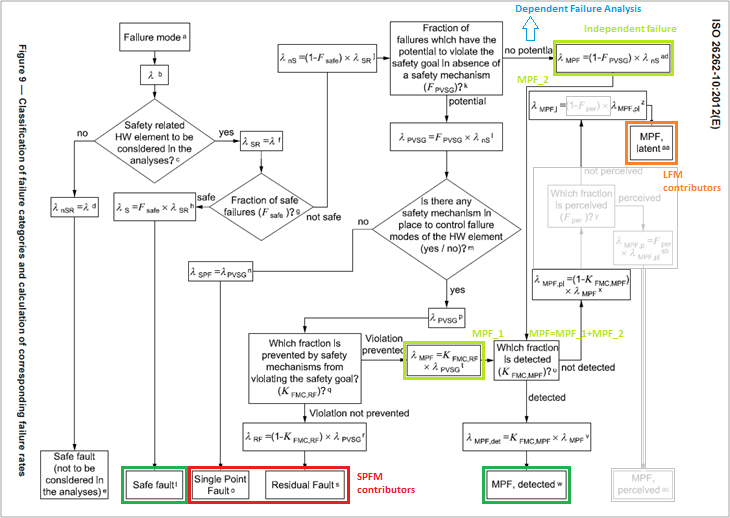 Technology Reliability Monitoring
IDT Europe develops and supplies automotive products with various ASIL grades and a wide range of ambient temperatures (Tamb) beyond AEC-Q100 grade 0.
Over an average lifetime of 15 years, a passenger vehicle is only being actively driven for about 7 to 10 % of the time. During this time, it is operated over a temperature profile typically described by the Temperature Mission Profile. However, due to placement of electronic components in the car, the actual assembly of the electronic products and the self-heating effect due to the power dissipation, the relevant junction temperature (Tj) is higher and, depending on the automotive application, it can reach temperatures up to 170°C.
Based upon the automotive Mission Profile, this translates into High Temperature Operating Life (HTOL) stress conditions typically running at 150°C to 160°C ranging between 1000hrs to 3000hrs.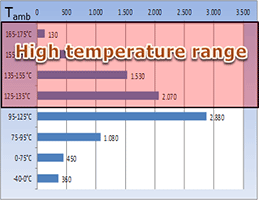 IDT Europe Audit Regime
IDT Europe regularly audits all its supply partners. All audits are performed on the basis of VDA 6, where the VDA6.3 system is used. The VDA6.3 standard is also the basis for IDT Europe's internal audits.
All supply partners for IDT Europe must score at least 90% or better to be accepted and enlisted as an approved vendor. All vendors for IDT Europe are A suppliers.
Vendors performing without any quality issues or other supply incidents are audited within three years; otherwise, the audit frequency is tightened according the escalation level.
All supply partners for IDT Europe support third-party audits if requested and if given sufficient advance notice of the audit system to be used.
All vendors for IDT Europe receive annual feedback on their performance utilizing a score card and are expected to pursue a continuous improvement program, which is reviewed during the VDA audits.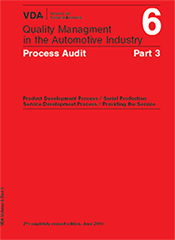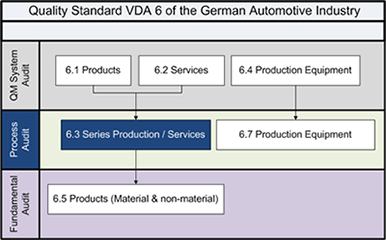 Automotive Failure Analysis
IDT Europe has more than two decades of failure analysis (FA) expertise. To support the requirements and time lines for our automotive customers in the event of an electrical failure analysis, IDT Europe has a dedicated on-site FA laboratory with a team of experienced FA engineers and a wide range of dedicated FA equipment, including a high-performance OBIRCH system.