Bluetooth® Low Energy is a low energy mode of Bluetooth wireless technology that has an effect on power consumption especially for battery-operated applications. The attractive point of Bluetooth Low Energy lies in that it can operate while being connected to applications for smartphones and tablets. Renesas Bluetooth Low Energy solutions provide smart connections with the lowest level of power consumption in the industry and can be used in applications such as healthcare and fitness devices, home electric appliances and RFID tags that use beacons to connect them with smartphones at low power consumption without wires.
Image

To purchase the RL78/G1D IC or module, contact your local Renesas sales office or distributor.
RL78/G1D Evaluation Board User's Manual (PDF | English, 日本語)
RL78/G1D Evaluation Board
To purchase an RL78/G1D evaluation board (Orderable Part Number: RTK0EN0001D01001BZ), contact your local Renesas sales office or distributor.
Image

Build IoT Devices Such as Sensors with the RL78/G1D Module and a Host MCU
Image

RL78/G14 Fast Prototyping Board
RL78/G1D BLE Module Expansion Board
Application Note: Bluetooth® Low Energy Protocol Stack Fast Prototyping Board Host Sample - Sample Code (ZIP)
Each board can be purchased from distributors.
Bluetooth Low Energy Protocol Stack for RL78 Family
GUI Tools
Even if you are not familiar with Bluetooth Low Energy, you can easily conduct Bluetooth Low Energy communication using GUI tools without writing a program. You can confirm the API execution procedure and the setting values for various parameters while actually conducting communication activities. Additionally, you can also develop a program smoothly while referring to the results (logs) of the operation check.
Image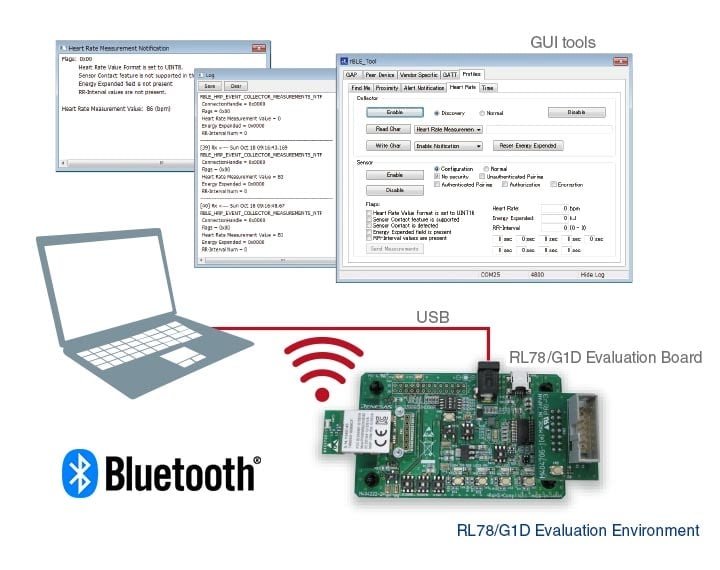 Bluetooth® Low Energy Protocol Stack GUI Tool - Sample Code (ZIP | English, 日本語) Bluetooth® Low Energy Protocol Stack GUI Tool (PDF | English, 日本語)
iOS/Android GATTBrowser Application
The GATTBrowser smartphone application can be downloaded from the Apple App Store and Google Play.
The GATTBrowser app is used to check Bluetooth Low Energy behavior. It can scan LE devices which are advertising in the vicinity and can perform GATT-based communication with the connected LE device. You can easily check the sample application behavior. GATTBrowser assists in the development of products that implement the Renesas RL78/G1D device and module.
Image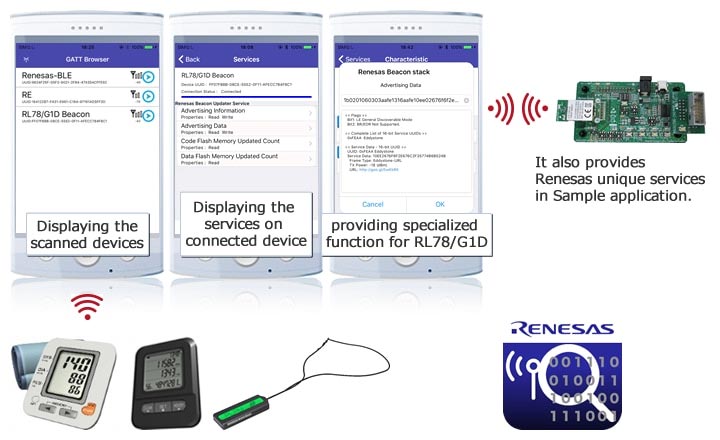 RenesasBLE iOS/Android Application
The "RenesasBLE" iOS/Android application created by Renesas can be downloaded from the Apple App Store and Google Play. RenesasBLE operates in conjunction with sample programs so you can immediately experience Bluetooth Low Energy. You can download all the sample programs for Android, iOS and RL78/G1D and immediately link what you experienced to development.
Image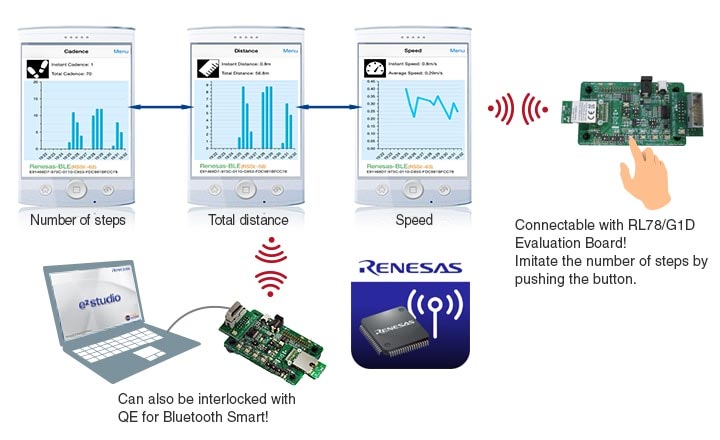 Bluetooth® Low Energy Protocol Stack RL78/G1D applications to communicate with RenesasBLE (PDF | English, 日本語)
Applications
Applications using Bluetooth LE technology have spread from healthcare devices and continue to expand into a wide variety of fields such as sports and fitness, smart homes, industrial equipment, and beacon applications.
Image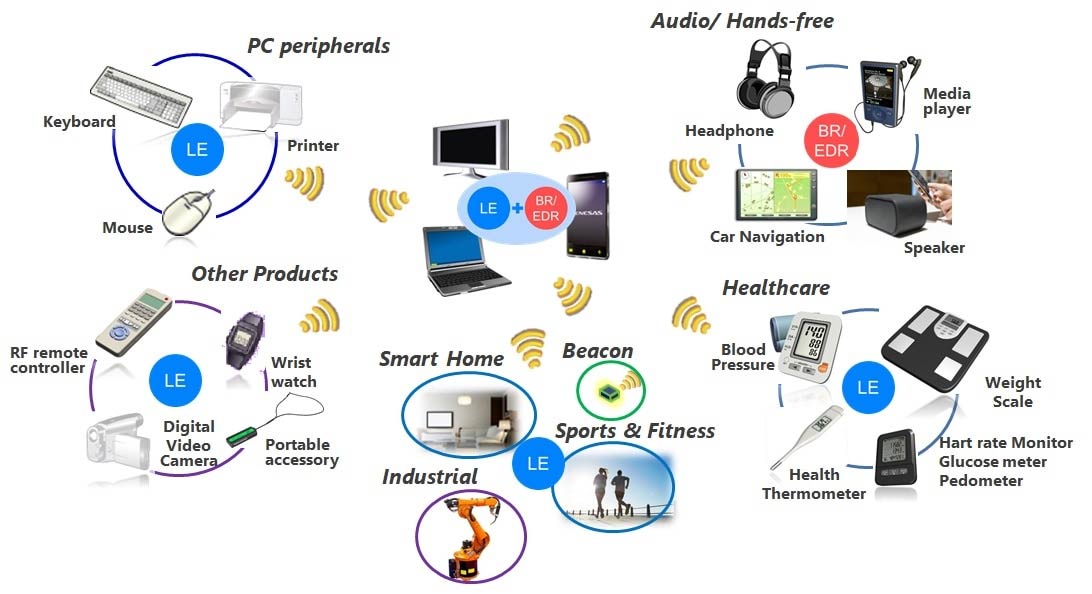 Beacons are applications which continue to transmit ID/URL/vendor information for advertisement notification to smartphones and location detection through smartphones. As beacons must always continue to transmit radio waves, the most important thing is to operate them with low power consumption. Renesas offers a stack exclusively for beacons, specialized in lower power consumption.
The RL78 Quick Solutions demonstrate how RL78 low power MCUs combined with Renesas' analog and power products can create high-performance solutions for a wide variety of applications. Quick Solutions for the Industrial IoT, infrastructure, healthcare, and home and office are fully developed reference designs with a user's manual, application details, schematic, bill-of-materials (BOM), and source code/project files that enable you to develop these solutions quickly.
Multi-Hop Operation
Multi-Hop uses a beacon stack for the advertising and scanning. Relay equipment executes both transmission and reception for Multi-Hop frame relay via the flooding method. It's possible to communicate data via more than one appliances. You can execute broadcasting a command (e.g. lighting control) and gathering data (e.g. sensor data) by using Multi-Hop. And, you can either select or not select security for prevention of eavesdropping and falsifying.
Image

When using Multi-hop without security, download from the following protocol stacks.
When using Multi-hop with security, contact your nearest Renesas Sales Office or Distributor.
Virtual UART Application
Responding to demands for wireless serial communication and wireless communication between embedded modules, we have developed a virtual UART application that works with Bluetooth Low Energy technology. It has a simple AT command execution function to control and set Bluetooth Low Energy communication, thereby realizing virtual UART communication where characters are transmitted/received via Bluetooth Low Energy communication.
Image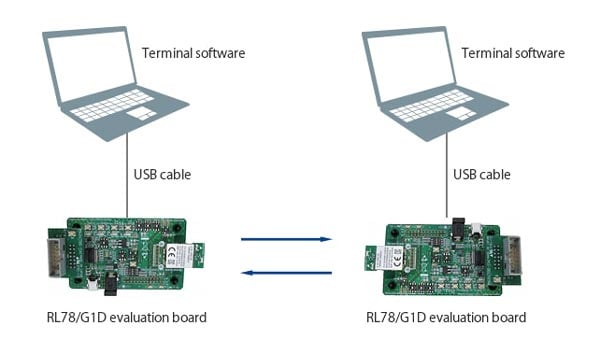 Bluetooth® Low Energy Protocol Stack BLE Virtual UART Application - Sample Code (ZIP)
Bluetooth Low Energy Utilization Resources