IEEE 1588 is a precise time protocol (PTP) used to synchronize clocks in computer networks. In a local area network, it can control the clock accuracy in sub-microsecond ranges, making it suitable for measurement and control systems. This optimized IEEE 1588 solution uses a dual-core Arm® Cortex®-A55 (1.2GHz) CPU and 9-Channel power management IC (PMIC) supporting DDR memory to achieve high performance, high efficiency and a smaller PCB size.
System Benefits​:
IEEE 1588 solution realized with Renesas' high-processing performance MPU and precision timing clock IC.
Renesas advanced clock recovery algorithms reconstruct accurate synchronization signals for networks.
The clock accuracy is within ±10ns.
Highly accurate AC/DC and PMIC provide a complete power solution.
Target Applications:
Core and access IP switches/routers
Synchronous Ethernet equipment
Wireless infrastructure for 5G network equipment
10Gb, 40Gb and 100Gb Ethernet interfaces
Image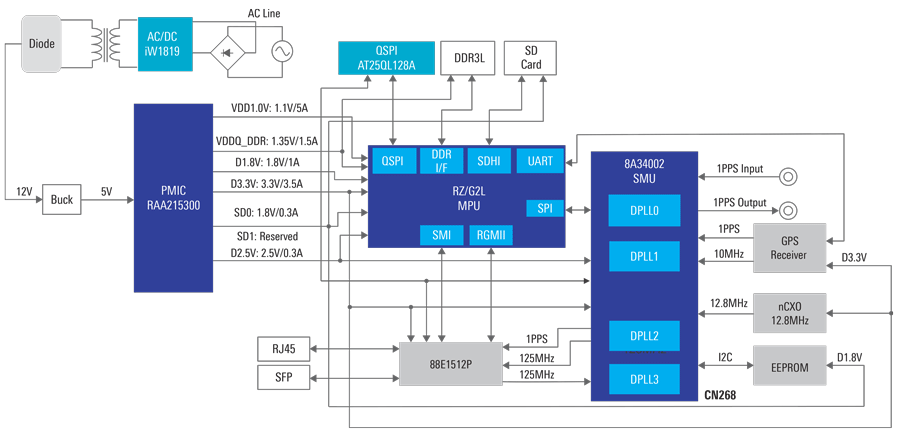 Image

Related Products
| Product | Description | Featured Document | Ordering |
| --- | --- | --- | --- |
|   |   |   |   |
| Memory |   |   |   |
| AT25QL128A | SPI Serial Flash Memory with Dual I/O, Quad I/O and QPI Support | Datasheet | Buy/Sample |
|   |   |   |   |
| Microprocessor |   |   |   |
| RZ/G2L | General-Purpose Microprocessors with Dual-core Arm® Cortex®-A55 (1.2GHz) CPUs, with 3D Graphics and Video Codec Engine | User's Manual | Buy/Sample |
|   |   |   |   |
| Power Management IC (PMIC) |   |   |   |
| RAA215300 | High-Performance 9-Channel PMIC Supporting DDR Memory, with Built-In Charger and RTC | Datasheet | Buy/Sample |
|   |   |   |   |
| PWM Controller |   |   |   |
| iW1819 | 18W AccuSwitch™ AC/DC Digital Primary-Side Switcher Eliminates Optocoupler and Maintains Excellent Cross-Regulation Accuracy | Datasheet | Buy/Sample |
|   |   |   |   |
| System Synchronizer |   |   |   |
| 8A34002 | System Synchronizer for IEEE 1588 - Four Channels | Datasheet | Buy/Sample |